Student volunteers learn how China feeds its people
10/04/2012 00:00:00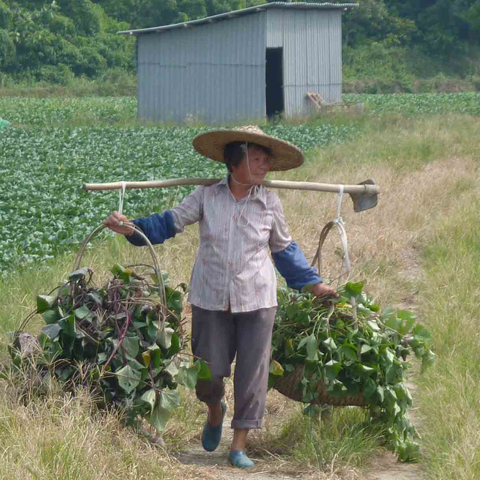 ​Students from Lancaster University have just returned from China where they have been learning first-hand about UK and Chinese efforts to address the issue of chronic food insecurity.
Lancaster University's award winning student volunteer and enterprise wing LUSU Involve took 15 students to China to learn first-hand about international work to increase the availability of safe and nutritious food in a time of population growth and climate change.
Third year Geography student Lucy Rigby who went on the exchange said the experience had helped shape her future career choice. "I've always wanted to visit China and this trip particularly interested me because my course has a food security element. As a result of what we saw and learned in China I know I definitely want to be a food buyer for a large scale supermarket – I would like one day to be able to have an impact on food sustainability through my career."
The group travelled to Guangzhou's South China Agriculture University (SCAU) with Professor Bill Davies – a leading expert on sustainable agriculture – based at Lancaster University's Lancaster Environment Centre (LEC). SCAU hosted the students on campus and arranged meetings with local farmers and researchers.
Environmental Researchers at Lancaster University have been working closely with their Chinese colleagues - including leading scientists at China Agricultural University and the Chinese Academy of Sciences - to address the developing global food crisis.
It's estimated that a rise in food production of perhaps 50 per cent will be needed by 2030 to meet increasing food demands and this must be achieved against a backdrop of accelerating climate change, increasingly unpredictable weather extremes and global shortages of many of the resources needed to grow food. Many other factors also reduce the availability of food and peoples' access to it and Lancaster researchers are addressing many of these considerations.
Some highlights from the trip were:
• Workshops on food security Issues led by researchers from CAS, SCAU and Lancaster University
• A Pearl River Cruise to learn more about the region
• Visit to the Guangzhou Vegetable Research Institute
• Visits to a Vegetable Research farm and a large organic  farm in Huadu District
• Visits to more traditional farms and food markets
• Opportunities to meet local farmers and learn more about rural life in China
• A workshop on water resources and environmental issues in China

Following this programme, a group of staff from Lancaster and collaborators from within the Lancaster-led 'International Food Security Alliance' travelled to Yunnan to visit the internationally famous rice terraces, an agricultural system which is more than 1,000 years old.
Professor Davies said: "If we are going to properly understand the different components of the food system and the factors which can help enhance global food security then we need to look beyond Europe. Taking these students to China was something I have wanted to do for a long time and I think the experience was rewarding for all of us. The students came from a variety of academic backgrounds and each brought their own perspective. I was really impressed with their insights and their thirst for increased understanding in this area.
"What we saw in China was a country in transition – we saw traditional farms but we also saw the new face of agriculture in China, profitable businesses which are focussed on producing good quality, safe and reliable food such as green vegetables for consumers in China and Hong Kong. We were struck by the large numbers of farmers who seem to have left their farms for better paid jobs in the cities. The agricultural system which has traditionally underpinned many aspects of Chinese Society seems to be evolving rapidly.
"In many ways this experience was a revelation. The students experienced a broad spectrum of life in China and were able to interact with researchers working with smallholder farmers to enhance knowledge exchange. We were joined by Professor Yiching Song, from the Chinese Academy of Sciences who is a specialist in this area and by  UK-based Food Ethicist Geoff Tansey who challenged us with considerations of how a global food system should operate. "