University Brass Band Championship
02/10/2012 00:00:00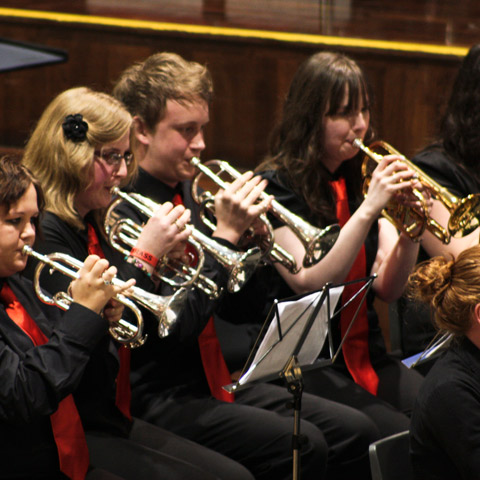 ​Lancaster University is hosting the second University Brass Band Championship of Great Britain on 18 February .

The event is being organised by UniBrass, founded by Lancaster students, in association with the British Federation of Brass Bands.

UniBrass was awarded almost £8,000 over two years by Arts Council England last year for the competition, which this year includes 12 entries from the universities of Oxford, Cambridge, Edinburgh, York, Birmingham, Cardiff, Bangor, Southampton, Keele, Huddersfield, Hull and Brass United.

There will also be a world premiere of "Lord Of My Youth" composed specifically for the contest by Marcus Venables from Toronto.

The Chair of UniBrass Rhian Davies, who is studying for an MRes in Statistics and Operational Research, said that most of the members of Lancaster's brass band are not studying music.  

"There's a real family feeling when you play together in a brass band. It's a great way to meet people from different backgrounds and it's really good fun."

She said the contest was growing in popularity.

"People have got more and more involved and it's now being promoted across the country. We wanted to start this because we felt there was a gap in the market, with many brass band competitions existing for adults but not students.  Hopefully this event will encourage new students to continue playing in a brass band during their university life and it will invigorate brass bands across the country."

There are now plans to form the British University Brass Band Association (BUBBA), and to encourage other universities to host the event.

Each band will perform a programme of 25 minutes each in front of two brass band judges Derek Broadbent and Paul Andrews with winners in several categories including Best March, Best Solo and Most Entertaining Performance.

The contest will be streamed live on UniBrass.Tickets will be available on the doors or can be reserved and collected on the day. All day ticket £5, with children under 12 free. You can also buy tickets online at  wegottickets