Ugandan Writer Shortlisted for Caine Prize
07/11/2011 00:00:00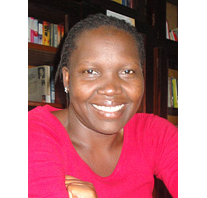 A member of the Lancaster/Uganda Friends Writing Project is one of five writers nominated for The Caine Prize for African Writing.

Beatrice Lamwaka's short fiction, 'Butterfly Dreams' has been shortlisted for the prize that is named in memory of the late Sir Michael Caine, former Chairman of Booker plc.

'Butterfly Dreams' is a short story narrated by a sibling of an adolescent girl abducted by rebels in Sudan. It  is part of a collection called  'Butterfly Dreams and Other New Short Stories from Uganda'  published by Critical, Cultural and Communications Press, Nottingham, 2010.

After being whittled down from 126 entries from 17 African countries, the winner of the £10,000 prize will be announced on Monday 11 July at the Bodleian Library, Oxford during a celebrity dinner.  This is part of a week of activities for the nominees that include book readings, book signings and press opportunities.

Born in Gulu in northern Uganda, now living in Kampala, Beatrice writes poetry, short stories and is currently working on her memoir, The Market Vendor.

Currently working as a freelance writer with Monitor Newspaper, UGPulse and the Press Institute, Beatrice is also studying a MA in Human rights in Makerere University.  She is also the General Secretary of the Uganda Women's Writers Association (FEMRITE).

FEMRITE is now associated with Lancaster's Centre for Transcultural Writing and Research through the Friends Writing Project.

Beatrice also participated in the British Council 'Crossing Boarders' programme directed by Lancaster's Professor Graham Mort.

Monica Arak de Nyeko, a fellow participant in the 'Crossing Boarders' programme, won the prize in 2004.

The Caine Prize for African Writing is open to writers from anywhere in Africa for work published in English. Sir Michael Caine's original idea was of a prize to encourage the growing recognition of the richness and diversity of African writing in English. Its focus is to reflect the modern development of the African story-telling tradition through the short story.