Touch screen democracy for the twitter generation
01/24/2012 00:00:00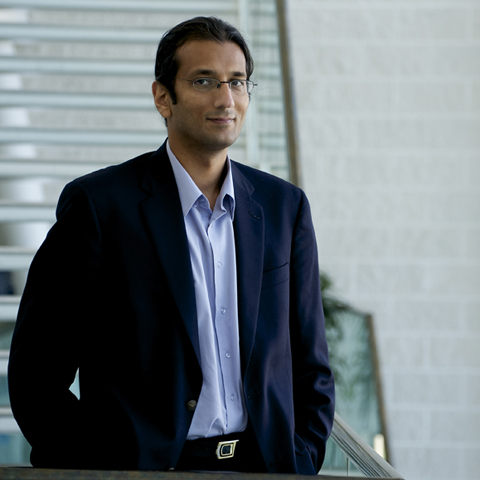 Researchers at Lancaster University have been using touch screen technology to help give teenagers more of a say in community life.
Paper surveys and formal consultations can be seen as a bit of a turn off to young people but students at Queen Elizabeth School, Kirkby Lonsdale in Cumbria have been giving their views about their local area in a different way.
A specially-designed interactive display has been installed in their school library by computing researchers from Lancaster's ICT centre of excellence InfoLab21, in collaboration with the University of Oulu, Finland. The screen enables young people to upload photos of themselves and express their views about their town, in an intuitive, user-friendly way.
So far, around 200 responses have been gathered ranging from pleas for more access to fishing on the Lune to teen-friendly cafes and more affordable leisure activities. The results will be fed back to the town council as part of a broader community consultation.
Professor Awais Rashid of Lancaster University is leading the project.
He said: "Over the last ten years networking sites such as Facebook and MySpace, Twitter and Flicker have changed the shape of our social world. Yet there is still a lack of understanding of how to effectively leverage social media to engage citizens on an ultra-large-scale, especially when it comes to addressing sensitive issues.
"Young people familiar with the instant flow of information and ideas are less likely to fill in a questionnaire or survey. We wanted to design something that felt comfortable for young people to use so their voices could be heard. This project goes beyond crowd sourcing. It looks at how we can leverage the potential of online social media to bring communities closer and help them work together in dealing with key local issues that affect them."
The material will be recorded and displayed in public online forums, such as FaceBook or Twitter. Subsequent users can comment and update the photos and comments.
Year ten QES student Michael Harkness said the screen had been popular with his peers. "It's appealing because it's not just a piece of paper, the screens are a lot more fun which makes you want to use them. It's a more interesting way of giving our opinions and less pressured. It's interesting reading about what other people think of the town."
Deputy Head Teacher Lisa Longley said the project gelled with their school's values of community engagement: "One of our ten school values is getting involved in community activity whether that is within the school community or the wider community where we live.
"The students love the interactivity of the screens, it is a way they can express their views or opinions and have their say in a less formal, more interesting and fun way. The information is coming from a wider selection of students who have not yet expressed their views on this topic in any other way.
"As an offshoot to this, it has increased footfall in our library where the screen lives, a winner all round."
The work in Kirkby Lonsdale is part of an 18-month, EPSRC-funded project called 'YouDesignIt' which is revisiting the web to find fresh ways of enabling communities to report and solve problems.
The project, which brings together computing experts, sociologists and psychologists, will ultimately produce blueprints for next-generation online social networking mechanisms with community responsibility and empowerment at their core.