Tai Shan Schierenberg's portrait of Lancaster University's Vice-Chancellor unveiled
11/29/2011 00:00:00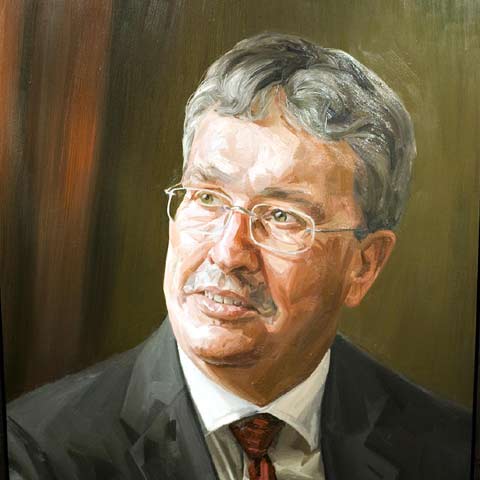 Lancaster University unveiled a new portrait of its out-going Vice-Chancellor at a special farewell dinner on 28 November.

Guests at the event, which was attended by HRH Princess Alexandra and the Chancellor Sir Christian Bonington, saw the portrait of Professor Paul Wellings, which has been painted by award-winning artist Tai Shan Schierenberg, for the first time.

Tai Shan Schierenberg won the National Portrait Gallery's John Player Portrait Award in 1989 and as part of the prize was commissioned to paint the portrait of playwright John Mortimer for the Gallery's collection. The National Portrait Gallery also holds his portraits of Lord Carrington, Lord Sainsbury and Seamus Heaney.  He was also commissioned to paint a double portrait of Her Majesty the Queen and His Royal Highness the Duke of Edinburgh.  Earlier this year Tai was awarded the 2011 Ondaatje Medal for Portraiture by the Royal Society of Portrait Painters.

The portrait of Lancaster's fifth Vice-Chancellor was produced from two days of sittings held in  Lancaster and then worked up from photos in the artist's studio in London . Professor Wellings was invited to visit Tai's studio in August to see the work in its final stages. 

 He said: "I am honoured to be recognised by the University in this way.  Tai Shan Schierenberg is one of the UK's leading portrait artists and I was delighted when he took this commission.  Tai is renowned for pushing the boundaries of portraiture and is rightly celebrated for many outstanding pieces."

Lancaster  has a long-standing commitment both to its existing art collections and the work of contemporary artists. Through the work of its public facing arts programmes 'Live at LICA' and the MLA-accredited Peter Scott Gallery, the University is diversifying its collection of 20th-Century and contemporary art, including recent acquisitions of works by Patrick Caulfield and Rachel Goodyear. Through support from Arts Council England, the gallery also commissions new work, recently from Mel Brimfield, Manuel Vason and Franko B.

Professor Paul Wellings is returning to Australia to take up the position of Vice-Chancellor of Wollongong University, New South Wales, after nine years as Vice-Chancellor at Lancaster University. During this period Lancaster has been ranked in the top 10 UK universities and in the top one percent in the world. The University has enhanced its reputation as a research-led institution with an outstanding student experience. The international profile of the University has been strengthened by important partnerships in China, India, Malaysia and Pakistan.

Distinguished physicist Professor Mark Smith has been appointed sixth Vice-Chancellor of Lancaster University and will take up the post from January 2012. Professor Smith currently holds the position of Deputy Vice-Chancellor at the University of Warwick.