Students flock to sign up for the good life
07/05/2011 00:00:00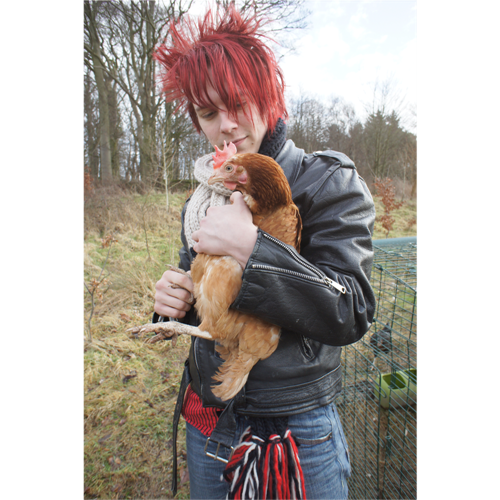 Lancaster University students have been getting a taste of the good life thanks to a shared organic garden, a newly planted orchard and even their own chickens.
Fresh eggs and home grown fruit and vegetables are becoming part and parcel of campus life for a group of around 93 volunteers.
The scheme, pioneered by student union environmental wing Green Lancaster, has really taken flight since the arrival of six former battery farm hens this spring. The birds proved an unexpected hit with students with more than 33 signing up to look after them. Twice a day volunteers take a break from their desks and cross the fields to feed them, check their water and give them a run about.
The organic garden is also flourishing. Twice a week teams of students don their wellies, grab a fork and head for the raised beds, greenhouses and poly tunnels in the university grounds where they have planted around 40 varieties of vegetables from beetroot to broad beans.
This year students and volunteers also planted an orchard of 36 fruit trees including apple, pear, plum and damson along with 400 fruit bushes. They are expecting their first proper fruit harvest next autumn.
The produce is currently shared between the volunteers and as the project grows Green Lancaster hopes to help to students set up a sustainable enterprise to sell the surplus eggs and help fund the project.
The project has brought together the whole community from children at Westend Primary School in Morecambe, who helped design the orchard, to local environmental group LESS (local effective sustainable solutions) who give the students basic organic horticulture lessons.
Darren Axe of Green Lancaster said: "The project has been more successful than we could have imagined. We had no idea there would be so much interest among students, particularly in looking after the chickens.
"It gives students an opportunity to learn about sustainable food production and brings us into closer contact with the community who have helped shared their knowledge and expertise."
Student volunteer Phil Donkersley who is doing a PhD in Environmental Science is a regular volunteer.
He said: "I made the first approach to Green Lancaster to suggest keeping chickens and I was really pleased when they said yes.  I love coming down here and looking after the chickens, they all have individual personalities, it's a bit like having pets really. It's good to be outside and it's just a nice place to be. Sometimes I bring a book and read."
Green Lancaster has been funded for the last two years by v, the national youth volunteering charity and Lancaster University Facilities. Lancashire County Council and the Lancaster Environment Centre have also provided funding for the orchard.