Student employees recognised at awards
06/22/2012 00:00:00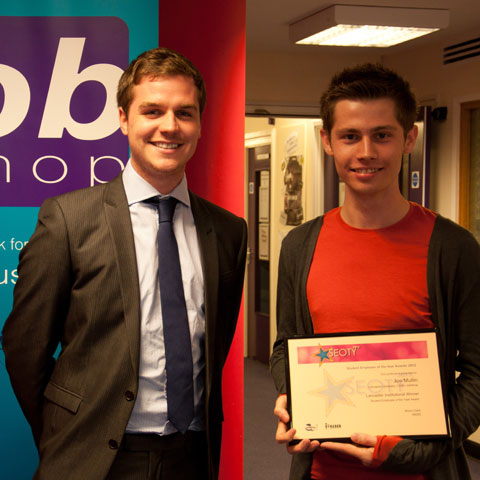 Lancaster University students who successfully balance paid work with their studies and make a real difference to their employers were recognised at Lancaster's Student Employee of the Year (SOETY) Awards.

The Awards were organised by Lancaster University Students' Union (LUSU) Jobshop in conjunction with the National Association of Student Employment Services (NASES) and were presented by Pro Vice Chancellor Professor Amanda Chetwynd and LUSU President George Gardiner.

The winner of the on campus category and overall winner for Lancaster was Joe Mullin for his work as a student mentor, working with students from disadvantaged backgrounds.

Joe was nominated for his commitment to his job over and above what was required, undertaking research for learners in his own time and demonstrating genuine concern for them. His colleagues said in his nomination that they feel lucky to have him working with them.

Speaking about winning the award, Joe said "I was shocked to win and it is great to be recognised and appreciated in this way."

LUSU President George Gardiner said "It is completely deserved that we recognise the achievements of student employees who are succeeding in the workplace at the same time as doing a degree. The winners, and in particular Joe, are a real credit to the University."

The winner in the International Student category was Chirag Gude, who was nominated for his work on the Pendle College website, which he managed to undertake despite it clashing with his exams. Some technical issues meant that Chirag had to complete the work from India, but it was completed to deadline, and has resulted in an increase in usage of the site by students.

Emily White was the winner in the off-campus category for her work attending schools and exhibitions to promote Lancaster University potential undergraduates. Emily was nominated for her commitment and ability to talk to students in a meaningful way. Her commitment to the role has meant that she is trusted to attend event to represent the University on her own.

LUSU Jobshop offers a free of charge service to local employers to advertise their part time vacancies to Lancaster University students.