Wayne Hemingway at the Student Enterprise Awards 2012
11/22/2012 00:00:00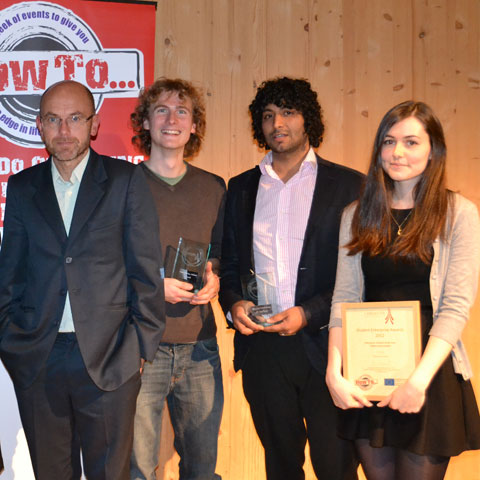 ​Designer Wayne Hemingway MBE was the guest of honour at the Lancaster University Student Enterprise Awards 2012.

He and his wife Gerardine created the global fashion brand Red or Dead. They now run Hemingway Design focusing on affordable and social design and recently curated the Queen's Diamond Jubilee.

Wayne Hemingway said: "If you have a passion, that passion can lead to a business. If you like doing something, there is some way of making it into a career. Business is about making people happy and if you can please your customers, they will come back for more."

The awards evening held at LICA included Placement Student of the Year (Anna Kiukkonen, nominated for her placement with Brightbeck), Student Enterprise of the Year (Avinash Nandwani for Cheeky Promotions Ltd), and Social Entrepreneurship Idea of the Year (Elham Kashefi for the Tara Project).

One of the winners was Paul Hodges who won Alumni Entrepreneur of the Year for his bespoke sausage company The Grand Old Duke of Pork.

He had the idea while he was a final year student on the BA in Management and Entrepreneurship at Lancaster University Management School, where he had access to entrepreneurs and where he spent placements with companies as part of his degree.
He set up the business with a £1,000 grant provided from the Proof of Concept Fund in association with Lancashire County Developments Ltd.

He also received mentoring support provided through the Northwest Enterprise Champion project, part-financed by the European Regional Development Fund.

"It's good to get the recognition. I always wanted to set up my own business and I thought of a few ideas before thinking of one where people can order whatever kind of sausage they want."

Enterprise Champion Jon Powell said there are currently hundreds of enterprise-related activities at Lancaster University with the latest being the Coffeemat Challenge, a business ideas competition.

He said: "Every idea is a spark and we're here to celebrate those people who've taken ideas and made them happen."