Stagecoach launches 12 new buses on university routes
06/13/2011 00:00:00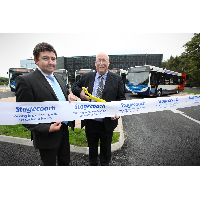 The success of the University's Travel Plan, which has seen a 70 per cent increase in bus use amongst staff since 2007, has been boosted with the launch of 12 new Lancaster University branded Stagecoach buses which will be named after colleges of the University .

382 staff have taken advantage of the subsidised University bus pass this year and a package of timetable improvements and other benefits will be delivered later this year.

Staff bus use has increased 71 per cent since the last staff travel survey in November 2007. The latest Staff Travel Survey results show that :

• Car sharing has increased by 17 per cent 
• Bus use has increased by 70 per cent
• Cycling to work has increased by eight per cent
• Women cycling to work has increased by 35 per cent
• Business use of train travel has increased by 17 per cent

Helping staff to leave their cars at home is just one way that the University can reduce its carbon footprint. A wind turbine will be built on campus in 2012, and is just one project amongst many that the University is implementing or planning to implement to cut carbon emissions.
Other projects include replacing the University's main boilers, installing a Combined Heat and Power (CHP) Unit and plans to install a biomass boiler. 
The University is expanding its carbon saving competitions for students and is currently targeting staff in order to enable them to improve energy efficiency in their work areas as well as implementing dozens of small scale energy and water saving projects to get everyone thinking about the way in which they use energy and the way in which they can contribute to carbon reduction.
Completion of all these projects over the next three years would reduce carbon emissions by over 30 per cent, well on the way to the very challenging Higher Education sector target of cutting carbon emissions by 43 per cent by 2020.