88 per cent of students use sustainable methods of transport
05/13/2013 00:00:00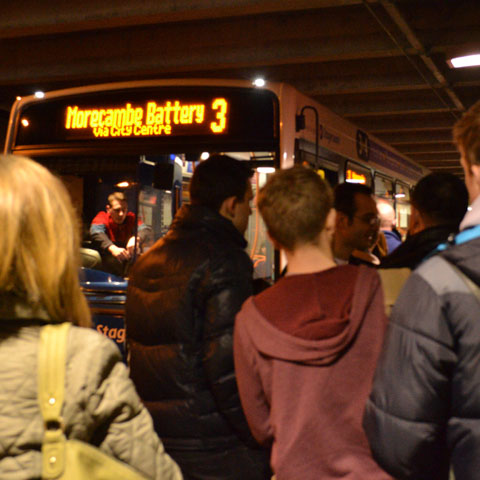 The University's Travel Plan has been so successful that targets set for 2015 for bus use, car sharing and sole occupancy car use have already been achieved.
Both staff and students are using the bus more and the car less when they travel to campus, with just over half of staff and 88 per cent of students using sustainable methods of transport.

Bus use among students is up by more than a quarter
More than two thirds of students living off campus now commute to university by bus
Bus use amongst staff has increased by 17 per cent to just under a quarter of all staff
Sole occupancy car use has halved among students



Measures to encourage people to leave their cars behind include subsidised university staff bus passes, and timetable improvements. There is now a bus every four-and-a-half minutes between campus and the city centre between 8am and 6pm, which is the highest bus frequency of any campus University in the UK.
Twelve new Lancaster University branded Stagecoach buses were introduced onto the commuter routes to campus in 2011. In 2012, new buses with free Wi-Fi access were also introduced.  
Phil Longton, Travel and Environment Co-ordinator, said: "It's really satisfying to have achieved such success with the Travel Plan by significantly increasing sustainable travel. This proves that the University is taking its environmental responsibilities seriously and we are committed to reducing carbon emissions by every means possible. Transport plays a crucial role in this."