Seb's website sets the social scene
02/13/2013 00:00:00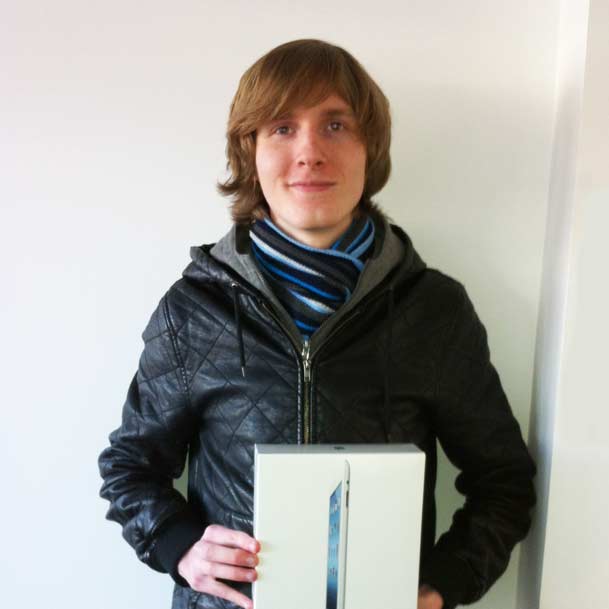 ​The concept of a new university website, complete with mobile application, to capture the campus social scene at a glance, earned an enterprising student an iPad.

Seb Cooper, a second year Physics with Astrophysics and Cosmology student, took up the Lancaster University Coffeemat Challenge, the hugely popular hardy annual competition where students have to submit a business idea on a coffeemat.

Seb's vision was to unify all the university's social societies on one website, offering an efficient solution to finding and joining groups and organisations.

The idea was born out of Seb's own experience at university, which plenty of other students agreed with judging by the amount of 'likes' on Facebook which got him through the first heat of the contest.

The site, with Facebook integration for notifications, search engine for finding societies, customisable calendars and news pages, is for universities who pay to use the platform as it becomes an essential student must-have.

"The Coffeemat Challenge requires only your imagination," said Seb. "From there it helps you realise that a small idea can be enough to change your perspective and make you think in an entrepreneurial way."

Jon Powell, from the Enterprise Team in Research and Enterprise Services who organised this year's challenge, added: "Seb thought through the practicalities of the idea and saw opportunities to progress it if he was successful and this is why he won the challenge and the prize."

Other ideas shortlisted in the challenge, which attracted hundreds of entries, included a fruit bowl that regulates its own temperature and a car share website.

This year the challenge was run as part of a 'How To…' week, seven days of intensive workshops to help students develop a range of key enterprise and employability skills.

The Coffeemat Challenge and 'How To...' week were organised by the Enterprise Team in Research and Enterprise Services through the Northwest Enterprise Champion Project, part-financed by the European Regional Development Fund. For more information please visit http://www.lancs.ac.uk/users/gew/support/.

Students with ideas for a social or commercial enterprise are invited to attend the Business Start-Up Boot Camp on 25 and 26 March. Register your interest at http://businessstartupmarch2013-eorg.eventbrite.co.uk/#.