Scientists from China visit Lancaster
02/23/2012 00:00:00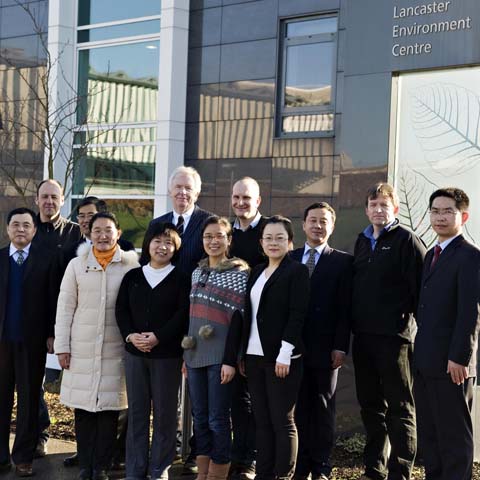 ​A team of distinguished scientists from China Agricultural University in Beijing has visited the Lancaster Environment Centre as part of an RCUK-funded three-year collaboration between the UK and China.

Lancaster University was awarded a £1.33m grant by Research Councils UK, to work with researchers in China to address food and water. This funding has since been augmented by support from several funding agencies in China.
 
The project team led by Distinguished Professor Bill Davies of LEC has been working in partnership with the Chinese Academy of Sciences, China Agricultural University and a growing number of UK businesses to provide new knowledge, products and services.

These include maximising crop yields under drought, new agronomic technologies to enhance water use efficiency, the detection of heavy metals in the environment and food, and managing organic chemicals and agricultural waste disposal.

The visitors from the China Agricultural University included the Director of the Centre for Agricultural Water Research (CAWR) Professor Kang  Shaozhong, Professor Wang Fujun,  Dean of the College of Water Conservancy & Civil Engineering (CWCC),  Professor Yang Peiling Chair of CWCC, and Dr Du Taisheng, Dr Mao Xiaomin and Dr Tong Ling.

The visit was organised to discuss future collaborative research on agriculture in North West China, one of the driest regions in the country.

LEC will continue to research in this region and hopes to offer Lancaster PG and UG students the opportunity to be involved in this work via summer schools and other overseas placements.

Professor Kang was awarded an Honorary Doctorate by Lancaster in 2010 and is a regular visitor to Lancaster.

Professor Davies said: "It was a real pleasure to host a visit from Professor Kang and his team. Late in 2011, Kang was elected as a member of China's Engineering Academy. This is a great honour for him and for CAU. We feel great pride in our association with his research which is impacting positively on the lives of millions of people who live in one of the most environmentally challenging regions in Asia".