Santander Universities scholarships
11/08/2012 00:00:00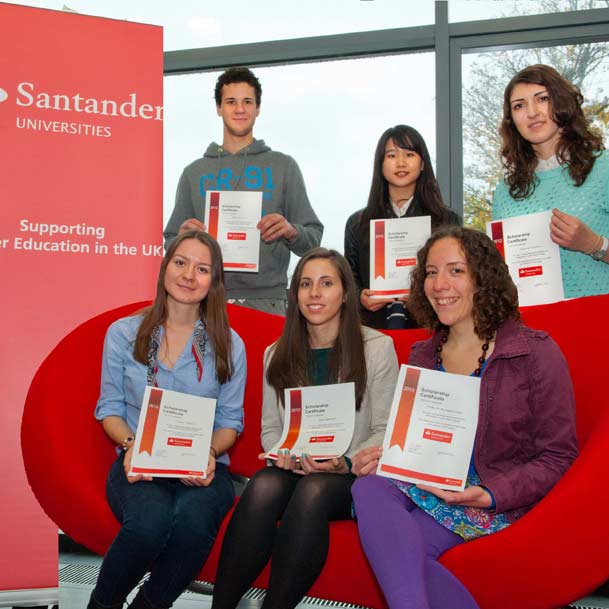 ​Nine students at Lancaster University have already benefited from the first tranche of scholarships worth around £45,000 provided by Santander, through its Santander Universities Global Division.

Svetlana Volkova from Russia, who is studying for an MSc in Management Science and Marketing Analytics, said she was delighted to have been awarded the £5,000 scholarship.

"It was so unexpected and I was so pleased that I jumped around the room with joy!"

Mikhail Grevtsov is also at Lancaster University Management School after studying at the Higher School of Economics in Moscow.

He said: "This was very important for me because coming here is a great opportunity and this helps me become more independent."  

The Santander Universities Global Division is funding various scholarships and awards after signing a co-operation agreement with Lancaster University last year for a total of £168,000 over three years.

Professor Steve Bradley, Pro Vice Chancellor International, said: "We have a very successful relationship with Santander Universities and we are pleased at the funding and opportunities they offer to our students who also benefit from access to their international network of universities."

Luis Juste, Director of Santander Universities UK, said: "We only signed our agreement with Lancaster just over a year ago and we are delighted to already see some positive results of this agreement with a group of talented young people who have been able to study in the UK thanks to our funding. We are extremely pleased with Lancaster University's approach to internationalisation and the transfer of knowledge between universities and we are proud to be in this long-term partnership with Lancaster."

The three year agreement includes scholarships and awards for students and staff to study within the UK and abroad, as well as the recruitment of students from Lancaster's partner, the Federal University of Lavras in Brazil, onto Masters programmes offered by the Lancaster Environment Centre.

The money will also fund joint Masters programmes between Lancaster University Management School and the Higher School of Economics in Moscow.

Other awards will be made for study abroad scholarships for students and staff involved in the Lancaster/Lavras dual PhD programme. The focus will be on 969 universities in 11 countries within the Santander Universities network.

The funding also includes support for LUMS, including enterprise initiatives in Brazil, and grants for staff for joint research funding bids, initially between the Lancaster Environment Centre and the Federal University of Lavras.