Research reveals the true cost of a burger
02/07/2012 00:00:00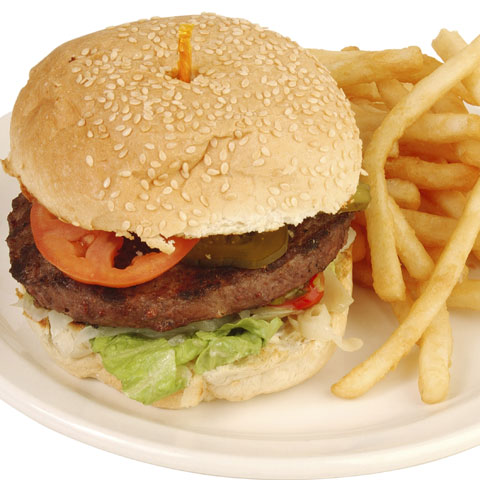 The UK could considerably reduce its carbon footprint if more of us switched to a vegetarian diet, according to new research by Lancaster University.
The report 'Relative greenhouse gas impacts of realistic dietary choices' published in the journal Energy Policy says that if everyone in the UK swapped their current eating habits for a vegetarian or vegan diet, our greenhouse gas emissions savings would be the equivalent of a 50 per cent reduction in exhaust pipe emissions from the entire UK passenger car fleet or 40m tonnes.

From biscuits and bananas to beer and wine, everything in our shopping basket comes at a cost to the environment and each stage of food production -  from farming and transport  to storage and packaging  - results in greenhouse gas emissions.
By working out the typical greenhouse gas emissions associated with the production of 61 different categories of food, using supermarket data supplied by Booths, the authors of the report, Professor Nick Hewitt of Lancaster University and Mike Berners-Lee of Small World Consulting, were able to work out the typical emissions associated with a number of different diets.
 
They worked out that the combined greenhouse gas emissions from the foods we eat in the UK are the equivalent of 167 million tons of carbon dioxide equivalent, and switching to vegetarian or vegan diets could cut this by between 22 and 26 per cent.

Fresh meat had the highest emissions of all, but meat and cheese had generally high green house gas costs. These emissions were largely caused by methane from rumination, slurry and farm yard manure and nitrous oxide from fertilizer. Meat has a carbon footprint at the checkout of 17kg of carbon dioxide equivalent per kilogram. Cheese has 15kg. Cooked meats are also high at 11kg per kilogram, with bacon at 9kg.

Exotic vegetables and mushrooms are high (9kg), largely because of freight and glasshouse heating costs.  In contrast, fruit and vegetables grown without artificial heating and/ or were shipped to the UK by sea, have low emissions. Wine has a carbon footprint of 2kg per kilogram, and potatoes, apples, milk, bread and cereals are under 2kg.

Professor Nick Hewitt said: "Greenhouse gases resulting from man's activities are changing the composition of the atmosphere, ultimately, with effects on global climate. It is clear that in order to meet the ambitious emissions reductions targets agreed in the UK and elsewhere, emissions from every possible source category have to be addressed and driven down. Food production, particularly by industrialised agricultural practices, causes significant green house gas emissions. Realistic choices about diet can make substantial differences to embodied GHG emissions."