Opening of security centre
10/19/2012 00:00:00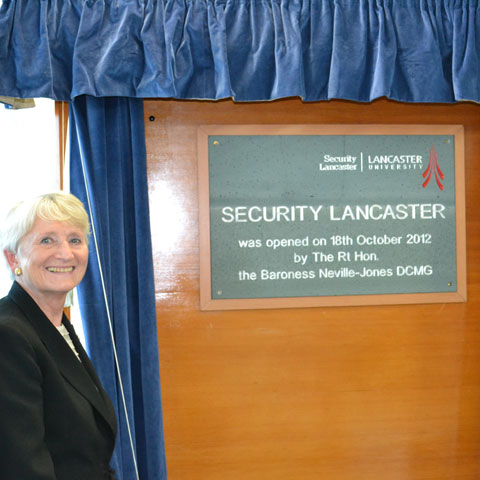 ​
A new centre dedicated to security and protection science called Security Lancaster has been opened by the former Minister for State Security and Counter Terrorism The Rt Hon Baroness Neville-Jones DCMG.
Over the last decade Lancaster University has made significant contributions in security research, from tackling online crime to the impact of domestic violence and abuse in vulnerable groups and helping eye witnesses in interview settings. Our multi-disciplinary approach to the research area of cyber security has led to the award of an Academic Centre of Excellence in Cyber Security Research by the EPSRC and GCHQ, one of only eight such centres in the UK.
The Baroness said: "It's a great accolade for Lancaster University to gain this recognition. I very much welcome the emphasis here on doing research rich in intellectual content and relevant to the practical needs of society."
Security Lancaster brings together world-class researchers from various disciplines to address key issues threatening security in today's society, including:
·

        
social unrest and new technologies
·

        
vulnerable witness interviewing
·

        
radicalisation and the digital culture
The joint directors of Security Lancaster are Dr Paul Taylor and Professor Awais Rashid.
Professor Rashid said: "From threats to national security to internet hacking, cyber security affects almost every one of us and it isn't going to go away any time soon. Lancaster University has been working in this field for nearly a decade, forging a global reputation for our research.
"The launch event is a showcase of some of our work which includes cyber security, security futures, violence and society and investigative expertise. There will also be discussions from some of our leading academics and an exhibition from our promising postgraduate students."
Partnerships with industry means that research outcomes developed by Security Lancaster can create tangible impact in the real world. Security Lancaster currently has close working relationships with major companies like BT and Cisco as well as governmental bodies, police and security services

both in the UK and in Europe.
Dr Taylor said: "Our approach has always been to work in partnership with stakeholders, be it our local community here in the North West, or large multinational companies.  From exploring new areas to refining existing approaches, we have always ensured that academic understanding goes hand in hand with tangible and impactful contributions.  The two in synthesis deliver lasting and important changes in today's society."
The launch was followed by the Future of Security and Protection Science Conference, a day of talks given by leading industrial and academic experts including:
·

        
Who am I; identity, trust and influence in cyberspace
·

        
Safeguarding cyborg childhood
·

        
Lost in cyberspace?
·

        
Social media and the future of security