National award for college porter
06/20/2012 00:00:00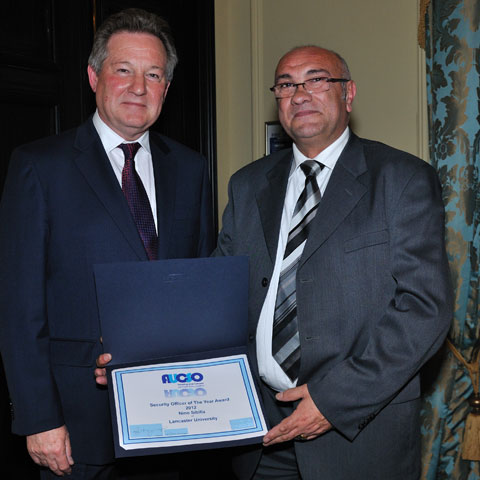 A college porter from Lancaster University has won the UK Security Officer of the Year Award.

Nino Sibilla, who works at Graduate College, received his award at the annual Association of University Security Officers (AUCSO) conference held at St Andrews University.

He said: "I love being a porter because you get to know so many people. This award makes the job worthwhile because people don't know what we do."

He received the title in recognition of his sensitive handling of the recent death of Graduate College student Anuj Bidve, who died in Salford on Boxing Day.

Nino was pivotal in regularly notifying students and passing messages on behalf of the Greater Manchester Police and Security Reception.

Mark Salisbury, Security Operations Manager for Facilities, said: "I saw at first hand exceptional customer service and inter-personal skills. On several occasions he showed deep compassion and a caring attitude for the many students who were literally walking around Graduate College in a daze and visibly in a state of deep shock."

Nino knew not only Anuj but virtually every student in Graduate College by name.

He said: "I want students to know they can talk to me if they need help. If I sent my kids to university, I'd like to know they're safe so I treat the students as if they were my sons and daughters."

He also alerted Security to the activities of the media and protected students from any intrusions.

He also had the door lock to Anuj's room changed to prevent any unauthorised access and ensure it was safeguarded at all times.

Mr Salisbury said: "I am so pleased that something positive has emerged from such a sad and tragic event. Nino's dedication to duty on behalf of the students during this awful time cannot be underestimated.

"Sometimes the soft skills and caring attitude often displayed by security staff members can be just as critical as acts of bravery."