Mentors help bright sparks set their sights on university
06/18/2012 00:00:00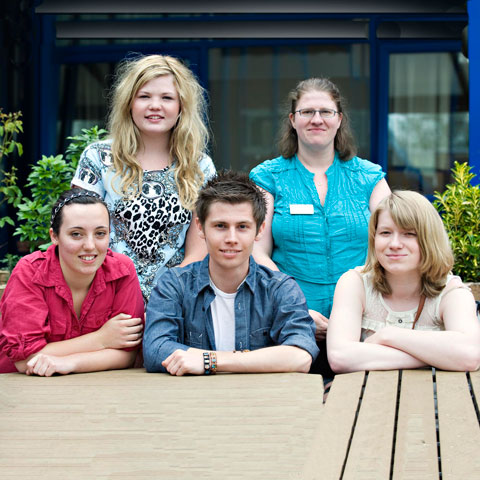 ​More than 100 bright pupils have been given a crash course in university study by Lancaster University student mentors.
The pilot project, called Target Uni, matches current Lancaster University students with year 12 school and college pupils who are academically gifted but might need extra encouragement to think about applying to university – either because they are the first in their family to study for a degree or have faced social problems such as disability, being taken into care or are from a low income family.
Run by Lancaster University's UK Student Recruitment and Outreach team, 32 hand-selected Lancaster students have been visiting schools across the North West over the last school year helping answer questions, dispel myths and encourage young people to fulfill their potential.
Pupils have been given guidance on finance, course selection and the application process. They have also tried their hand at some undergraduate-level work, working with Lancaster University academic tutors.
Law student Joe Mullin is in his second year at Lancaster. He was the first in his family to go to university and has been mentoring three pupils at Our Lady's Catholic College in Lancaster.
He said: "I wanted to make young people aware that university is a lot more accessible that they think; you don't have to have blue blood in your veins to get in. Working with the students at Our Lady's was an enjoyable experience. We had a good time together and I hopefully managed to help them plan their future careers. It would be great to see them all get their UCAS applications started to begin studies in 2013."
Alyssa Turner, who has been mentored by Joe, is hoping to study History at university.
She said: "The mentoring scheme was not what I expected. Initially I just thought it would be the usual throwing information at us but I was impressed with the amount of effort put in by both the directors of the scheme and my mentor Joe. I thought he was highly professional and he provided us with information in a friendly, informative way. I always wanted to go to university and this scheme has provided me with all the facts I need to make my decision."
Ruth Lowe, Head of Sixth Form at Our Lady's Catholic College, said: "We have found the mentoring scheme very useful. Our students really enjoy discussing their plans and aspirations with people who are closer to their own age. They have received very sound advice and the scheme has motivated students to study even harder for their examinations. The university students were extremely reliable and accommodating to our students. We will definitely be participating next year."
Programme co-ordinator Kate Haywood said: "This project is a fantastic opportunity for prospective learners to work with our brilliant team of mentors. The programme will culminate in a visit to Lancaster on 27th June, where pupils will learn more about the nuts and bolts of applying to university and gain first hand experience of what it's like to live and learn in a friendly campus."
From September, Lancaster University has plans to expand the project, encouraging more of the brightest learners in the north to progress to our University whatever their background. For more information, contact the programme co-ordinator Kate Haywood k.haywood@lancaster.ac.uk
Joe has won the Lancaster University On-Campus Employee of the Year award through National Association of Student Employment Services for his mentoring work.