Medical student wins Royal College award
07/03/2012 00:00:00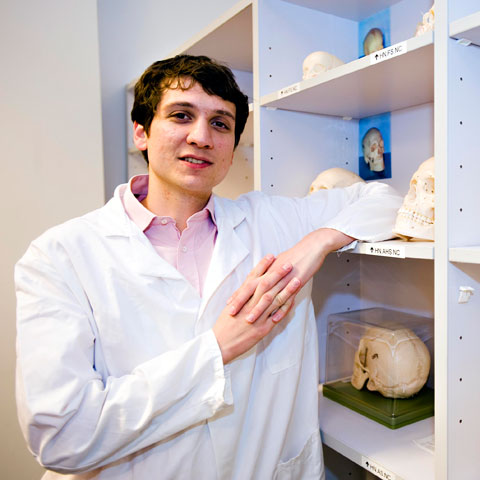 ​Medical student Thomas McConnell has been awarded first place in the Royal College of Obstetrics and Gynaecology's Tim Chard Prize.  The prize was awarded based on Thomas' submission of a case presentation and he was invited to present his work to a meeting of the Royal College.

He is currently undertaking a Masters in Research at the Faculty of Health and Medicine, funded by the University Hospitals of Morecambe Bay NHS Foundation Trust in order to promote research links with Lancaster University, and to encourage medical students to develop research skills.

Thomas said "I've been studying the way that environmental conditions affect the behaviour of the bacteria Staphylococcus aureus.  We hope that In future our data will help to establish whether there is a link between toxins secreted by bacteria and several health conditions including cot death and toxic shock syndrome."

This work has earned him a place on the shortlist for the Student Prize in Pathology from the Royal Society for Medicine.

He has also been awarded a Special Commendation in the Andrea Litva prize organised by the Behavioural and Social Science Teaching in Medicine conference in Cardiff. 

This study was undertaken with Dr Dawn Goodwin of Lancaster Medical School and they are co-authors of a chapter in the forthcoming book "The Sociology of Diagnosis; A Guide for Students and Clinicians".

Thomas said: "Diagnosis is often thought of as a straightforward process taken on by one doctor but in real life the process can be affected by many factors including how doctors relate to each other, other healthcare professionals and the patient.  Developing a sociological understanding of diagnosis could be an important way to help reduce diagnostic errors."

Dr Goodwin said: "It's quite remarkable for a medical student to be publishing in the field of medical sociology, but Tom is inquisitive, thoughtful and diligent and an absolute pleasure to teach. He is open to conceptualising something from an entirely different perspective which is invaluable for a researcher."

Following graduation, Thomas aims to continue to research as well as working as a doctor and he feels he has had an excellent start at Lancaster.

"Studying medicine at Lancaster has provided me with brilliant opportunities and through the help and encouragement of my teachers here, I have been able to gain the most from them."