Lancaster student wins The MBA Student of the Year Award
10/18/2012 00:00:00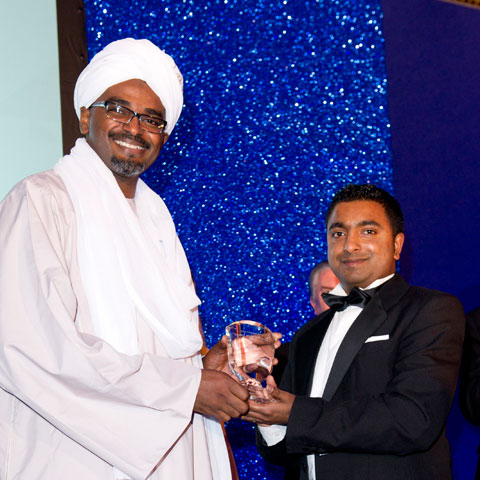 Husameldin Elnasri from Lancaster University Management School has won the MBA Student of the Year award, announced by The Association of MBAs (AMBA) at their Gala Dinner in London.
He chose to study for a full-time MBA to further his management career having moved from the not-for-profit sector to the corporate sector.

Husam said winning the award meant a lot to him.

"I consider it as a reward and recognition for all the hard work I have done in my life. It is also a reward for my family, friends and Lancaster University Management School for putting their faith and support in me to be able to finish my MBA."

The first Sudanese student to join Lancaster University MBA, he has also added to the MBA programme by teaching part of the course on Global Society and Responsible Management, discussing the difficulties of doing business in a conflict zone.
He brought his experiences of developing an NGO in South Sudan, and of implementing a corporate social responsibility strategy for a North Sudanese oil company to the MBA class room.

 "I have seen first-hand the positive effect business can have on small African villages and I believe responsible business can provide solutions to the eradication of poverty in the developing world. It is therefore very important that business schools engage with the developing world and emerging markets and I look forward to working with AMBA and taking an active role in helping schools in developing countries improve their MBA programs so they can become accredited." 

Chris Saunders, the Full-time MBA programme director, said: "During his time on the MBA, North and South Sudan have returned to war. This has caused considerable stress for Husam, who had to return to Khartoum to move his family to safety. Despite this Husam has not missed any part of the Lancaster MBA and he has shown leadership within the classroom, mentoring other students."

Vanessa Harwood-Whitcher, Chief Operating Officer, Association of MBAs, congratulated  Lancaster University Management School on the award.

She said: "Our accredited business schools continue to invest in excellence and these awards give AMBA the opportunity to shine a light on the best demonstration of innovation, leadership and entrepreneurial spirit coming from MBA students, graduates and business schools."

A panel of judges from business education, management and investment judged the award.