Lancaster is one of the safest places to study in the country
07/07/2011 00:00:00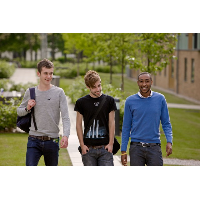 Lancaster has retained its status as the third safest city for student-related crimes in a ranking published today (Thursday 7 July) by the authoritative and independent Complete University Guide.
Compiled from official police data, the ranking gives the clearest picture possible of the crime rates in the 25 towns and cities outside London with two or more universities.
Lancaster  is just behind Canterbury and Bath as cities with the lowest cumulative crime rates in England and Wales.
Official data for crimes affecting students are not available, so The Complete University Guide has selected three crimes as most relevant to students, namely burglary, robbery and assault.  The ranking is based on the cumulative rate of all three crimes.
Head of UK Recruitment Fred Binley said: "Lancaster University is not only a top ten university with a global reputation but it is also a brilliant place to live and study. Our safe, friendly campus has benefited from more than £300m investment in facilities from a state-of-the-art sports centre to environmentally friendly student accommodation and, as these recent statistics show, Lancaster has an excellent reputation for student safety."
Bernard Kingston, founder of The Complete University Guide, says: "While these crimes are the three most commonly perpetrated against students, the figures relate to all victims, not just students. No such comparable data exist for university students, either on or off campuses, but it would be reassuring for university applicants and their parents if they did. It is clearly a matter of considerable concern when considering where to study as an undergraduate."
 "While the quality of tuition and the prospects for employment after graduation are key elements in choosing a university course, it is important not to overlook other aspects of the environment in which the student will be living for three or more years."