Lancaster celebrates brass band success
02/21/2012 00:00:00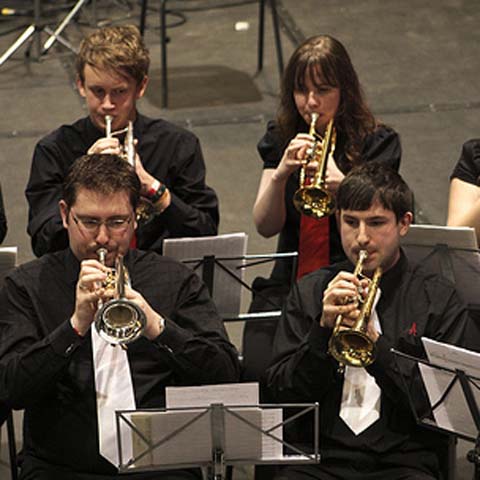 Lancaster has finished third at this year's University Brass Band Championship of Great Britain held at the Great Hall on campus.

The event was organised by Unibrass, founded by Lancaster University students in association with the British Federation of Brass Bands.

The live streaming of the competition on their website was one of the most successful ever in terms of audience for a Lancaster University event.

Unibrass was awarded almost £8,000 over two years by Arts Council England for the competition, which this year included a dozen from the universities of Oxford, Cambridge, Edinburgh, York,  Birmingham, Cardiff, Bangor, Southampton, Keele, Huddersfield, Hull and Brass United.

The winners were Brass United, made up of students from the Royal Northern College of Music and the University of Manchester. In second place was Huddersfield University while York came fourth.

Brass United included some of the country's leading young performers such as Joe Murray, Benjamin Richteon, Paul Shafi and Hannah Drage, while their winning programme featured the world première of 'Initiate!!' by Benjamin Tubb, a former RNCM student, as well as the prize winning 'Best March', 'Knight Templar'.

Brass United's 'Best Soloist' winners were the BBC Radio Two Young Brass Soloists for 2010 and 2011, Matthew White and Lewis Musson.

The Chair of UniBrass Rhian Davies, who is a postgraduate student at Lancaster University, said she was delighted with the success of the event.

"It was an amazing day and the standard is getting higher.  The Great Hall was packed and the live streaming was watched by a large audience. This shows that brass bands have a future and we are doing all we can to get as many students as possible involved with brass banding."

Lancaster University will host the competition for the last time in 2013 before it is hosted by another university as part of the newly formed British University Brass Band Association.
​