Lancaster University Ornithologist honoured
11/02/2011 00:00:00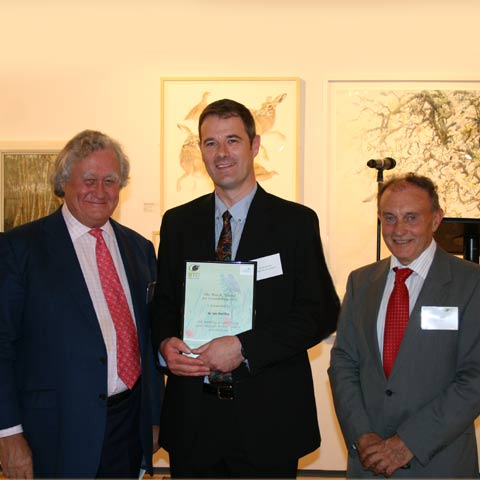 ​A Lancaster University scientist has been awarded one of the British Trust for Ornithology's top awards at the Mall Galleries, London.
At a ceremony hosted by the Society for Wildlife Artists (SWLA), Dr Ian Hartley was presented with the Marsh Award for Ornithology by the Chair of the BTO, Professor Ian Newton, for the significant contribution Ian has made to British ornithology.
With over forty scientific papers to his name, Ian's work has focussed on understanding the interactions between individuals within bird families.  This has involved studies of sexual conflict, offspring begging behaviour, and parent-offspring conflict in a range of species, including Corn Buntings, Alpine Accentors, Blue Tits and Swallows.
In addition, Ian serves on several national committees including the councils of the BTO and the British Ornithologists' Union, and is involved with the running or editing of several academic journals.  He is currently a Senior Lecturer at Lancaster University, where he carries out his research and teaches animal behaviour and evolution to undergraduate and postgraduate students.
Presenting the award, Professor Ian Newton, said: "Ian has made not only an outstanding scientific contribution, but has been a strong supporter and collaborator of the BTO. He has done much to help and train young researchers, and has contributed in many other ways to the greater good of ornithology, he is a very fitting recipient of this award and I am delighted to present Ian with it."
Dr Ian Hartley said: "This is a big honour for me. By enabling me to contribute to national surveys, such as atlas work and bird ringing, the BTO gave a purpose to my early birdwatching and helped to start my career in ornithology. Thank you for the award and for giving me that start."