Inspiring next generation researchers
05/23/2013 00:00:00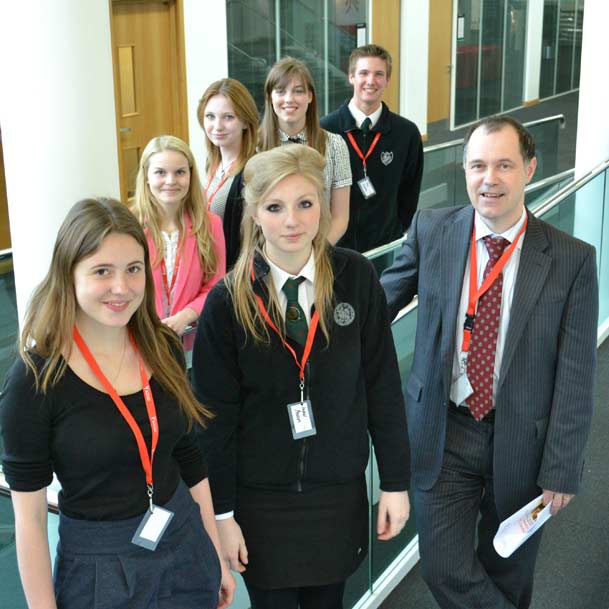 Students from schools in Cumbria shared their experience of research at the launch of a major new partnership with Lancaster University this week.

The research project between the South Lakes Teaching School Alliance (SLTSA) and the University, funded by Research Councils UK, was officially launched on campus on Wednesday.

Students and teachers from all 11 colleges in the Alliance attended the event and representatives from three schools, Dallam, Milnthorpe, Queen Elizabeth, Kirkby Lonsdale and The Queen Katherine, Kendal, shared their own research projects and findings.

Inspirational talks, designed to generate interest in research by using real life student experience, captured a diverse range of subjects including communism in East Germany, stranded whales and the Pendle Witches.

Speakers were: Zarah Dixon, Ashley Mason-Metcalfe (The Queen Katherine) Isabel Pearson, Alec Christie (Queen Elizabeth) and Hannah Putz and Meriel Hinsching (Dallam).

Earlier this year Lancaster University successfully secured £140k of RCUK funding to facilitate this three-year research partnership, one of only 12 universities to do so.

The initiative is designed to motivate young people to be excited about cutting-edge research, to raise their aspirations for further study and, potentially, to encourage a career in research.

It enables the university to address key areas of its public engagement strategy and gives academics, who have embarked on research careers at Lancaster, the skills to engage others with research, to support teachers in their professional development and to enhance their teaching with research findings.

Dr Jane Taylor, of Lancaster Environment Centre, who wrote the successful RCUK bid, said: "This launch event has been a great opportunity for members of the SLTSA to come to the University, to meet staff and students, and to hear about our ambition for the project.
 
"There was a real sense of excitement about this partnership and the breadth of opportunities it will create. The quality of the presentations by Year 12 and 13 students from three of the schools was fantastic, particularly as two of the students had arrived having just completed an exam earlier in the morning!"

Alison Wilkinson, the Research and Development Lead for the SLTSA and Deputy Headteacher at QES said: "The SLTSA is really looking forward to working with Lancaster University to develop opportunities for students and staff to learn more about research. We came away from the launch event brimming with ideas about exciting ways to further the partnership."

Vice-Chancellor Professor Mark E. Smith and Pro-Vice-Chancellor for Research Professor Trevor McMillan addressed the launch event.

Participating schools are: Baliol School, Cartmel Prior, Dallam, John Ruskin, Kirkbie Kendal, The Lakes, Queen Elizabeth, The Queen Katherine, Sandgate, Settlebeck and Kendal College.

PHOTOGRAPH CAPTION: Vice Chancellor of Lancaster University Professor Mark E. Smith (right) with (front row left to right) Meriel Hinsching and Isabel Pearson and (back row left to right) Hannah Putz, Ashley Mason-Metcalfe, Zarah Dixon and Alec Christie who all spoke about their research experiences at the official launch event.