Hot off the press – new book tackles a burning issue
04/18/2013 00:00:00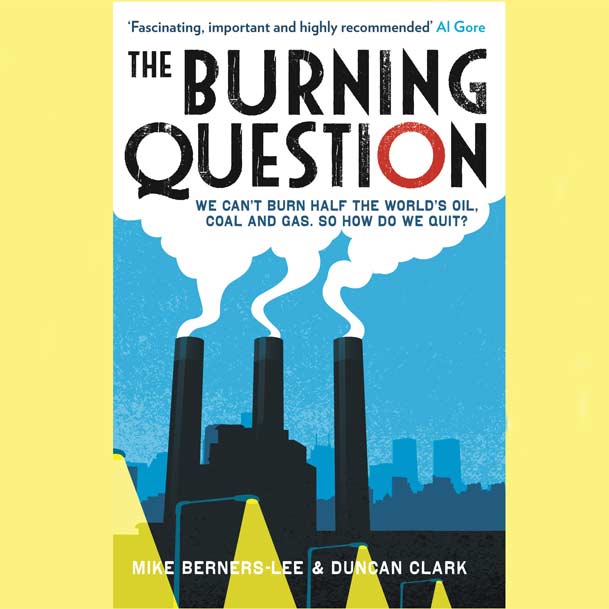 ​The Burning Question is…a bold new book, written by an honorary research fellow at Lancaster University, which seeks to challenge the world's attitude to burning fuel.

Mike Berners-Lee, who also runs award-winning, climate change business 'Small World Consulting' from the Lancaster Environment Centre, has co-penned the book, to be published on April 18, with Guardian journalist Duncan Clark.

And with testimonials from a high-ranking collection of experts including former Vice President of the United States Al Gore ("fascinating, important and highly recommended"), Eden Project founder Sir Tim Smit ("Terrific") and The Last Generation author Fred Pearce ("Brilliant"), the book has already achieved its fair share of praise and kudos.

Despite all efforts to save energy and create more fuel efficiency, carbon emissions are still soaring sky high, warn the authors, and, so far, green warriors at all levels, have failed to reduce global warming, or even make a noticeable dent in our emissions curve.

The Burning Question argues that the only way to tackle this is to demand that the world leaves its abundance of fossil fuel-rich reserves, worth trillions of dollars, in the ground.

It then takes a feet-on-the-ground look at this as a possibility, examines the barriers, and then explores, in real terms, the potential side effects.

Would the carbon bubble burst with a bang? Would the economy sink? Would oil giants crash?

Or could it be a smooth transition to a green future?

 "This transition will only happen if the world wakes up," warns author Mike Berners Lee, who lives in Kendal. "The book is written in a way that broadens people's understanding and then gets right to the heart of the big issues on climate change.

"We hope people will gain a proper understanding of what's going on and that big concepts, not widely and properly understood, will be brought to light.

"We want readers to feel this 'tells it like it is', doesn't shy away from the problem and that, despite all this, there are still grounds for hope."

And to that end, the book concludes with a realistic call to action which focuses on what we can all do as individuals – the ripple effect.

"With a big global issue such as this, the problem is what individuals can actually do?" adds Mike. "We are all so critical.

 Why are we so asleep about this? It's perceived as an abstract problem of the future. We have been receptive to sabotage of the truth. We now need to pursue what's true.

"Here we are trying to present some joined up thinking – science, politics, technology, psychology, sociology and behavioural activity."

The book, which also examines some of the myths surrounding climate change and so-called energy efficiency, was a year in the making.

 It follows hot on the heels of Mike's first highly acclaimed green bestseller 'How Bad Are Bananas?' which examined the carbon footprint in detail.

The paperback book is available, priced £9.99, from Amazon and good bookshops from April 18th.

• An official launch will be hosted by LEC on Friday, 26 April in LEC Training Rooms 1 and 2 and all are welcome. Mike will give a short presentation about the book and there will be time for questions and discussion. Refreshments will be provided. Please let Helen Boulton (h.boulton.lancaster.ac.uk) know if you will be attending. Copies of the book will be on sale at this event.