Honorary degrees 2012
07/24/2012 00:00:00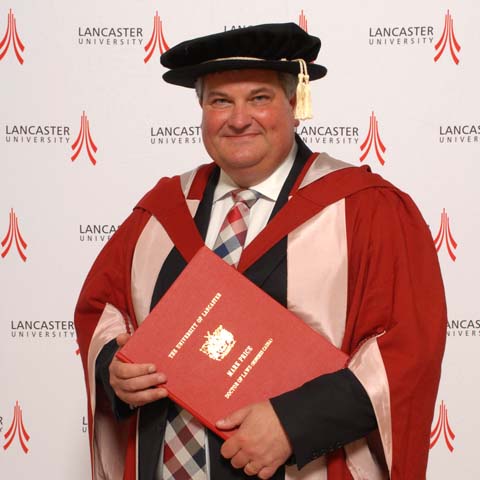 ​Lancaster alumnus Mark Price, the Managing Director of Waitrose, and the BBC's Head of Religion and Ethics Aaqil Ahmed are among six people distinguished in their field who have been awarded honorary degrees by Lancaster University at the graduation ceremonies in July.

The others include the journalist and radio critic Gillian Reynolds MBE, the founder of a leading cancer charity Roger Wilson CBE, Dr Syed Zaidi the founder of the COMSATS Institute of Information Technology in Pakistan, and accounting expert Professor Philip Brown.

Mark Price Doctor of Laws

Mark Price gained a degree in Archaeology at Lancaster before joining the John Lewis Partnership. His success in management, marketing and development led to his appointment as Managing Director of Waitrose, the Partnership's supermarket chain. He leads an organisation that supports those who supply its products across the world. It recognises its responsibility to British agriculture, partly by underwriting Lancaster University's Centre for Sustainable Agriculture. Mark's personal involvement is emphasised by his Chairmanship of both Business in the Community, Britain's most prominent corporate social responsibility coalition, and the Prince's Countryside Fund.

Aaqil Ahmed Doctor of Letters

Aaqil Ahmed is Commissioning Editor for Religion and Head of Religion and Ethics at the BBC. Born in Wigan, he took on responsibility for religious broadcasting, first at Channel 4 and then at the BBC. In these posts, he has compiled a distinguished portfolio of original and imaginative commissions. He has succeeded in raising the profile of religious broadcasting through programmes that have educated and informed the public.

Gillian Reynolds MBE Doctor of Letters

Gillian Reynolds has been for many years one of the most distinguished journalists in the country. After working for six years as radio critic for The Guardian, in 1975 she moved to The Daily Telegraph, for which she has served continuously as radio critic, writing perceptive reviews. As Chair of the Charles Parker Archive, she has played a key role in preserving great radio works of the past. She has received a Media Society Award for her distinguished contribution to radio, and was appointed MBE in 1999.

Roger Wilson CBE Doctor of Laws

Roger Wilson is the founder and Honorary Life President of Sarcoma UK, a leading cancer charity. He has been a pioneer in developing patient and public involvement in cancer care research. He has strong links to Lancaster University through the Cancer Experiences Collaborative, a six-year programme of research in supportive and palliative care research. He has helped to shape both a research agenda and improved service provision, emphasising the priorities of patients and their families.

Dr Syed Zaidi Doctor of Science
 
Over his career Dr Zaidi has pursued the ambitious goals of providing technical education and expertise to many people who would not otherwise have had had the chance. He founded the COMSATS Institute of Information Technology (CIIT), one of Pakistan's leading universities which has a close relationship with Lancaster University through its campus in Lahore.  In recognition of his distinguished national and international contributions the President of Pakistan conferred on Dr Zaidi the Star of Distinction.

Professor Philip Brown Doctor of Science

Philip Brown's work motivates the role of accounting information in stock prices; his key 1968 paper (with Ray Ball) remains as relevant today as then. He has served accounting and finance journals, Universities of Western Australia, New South Wales and education more widely through national policy on research and doctoral funding as well as ministerial committees on corporate law and regulation of financial markets. He has continued leading research while visiting Lancaster's Accounting and Finance Department since 2002. In 2012 he became a Member of the Order of Australia.