Honorary Degrees in December 2011
12/15/2011 00:00:00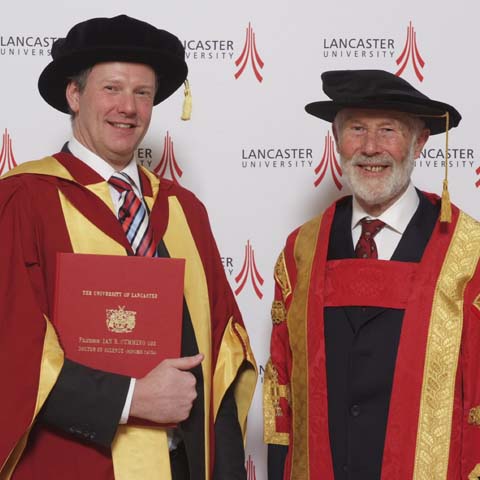 ​A member of the national Management Board for the NHS in England and a member of the Chinese Academy of Social Sciences have received honorary degrees at the December graduation ceremonies.

Honorary Doctor of Science

Professor Ian Cumming OBE was the youngest ever Chief Executive in the NHS when he was first appointed as the head of Lancaster Acute Hospitals NHS Trust in 1995. He is currently the national NHS Managing Director for Quality During Transition and Honorary Professor of Lancaster Medical School.
 
Realising that a Medical School was one way to aid the development of a good local medical workforce, Ian Cumming was part of a joint bid with the University of Liverpool and Lancaster University which led to the eventual creation of Lancaster Medical School. The first students graduated as doctors this year.

In 2002, he led the NHS response to the UK's largest ever outbreak of Legionnaires' Disease at Barrow in Furness in Cumbria when he was CEO of what is now the University Hospitals of Morecambe Bay NHS Trust.

In 2006, he was appointed CEO of the commissioning body NHS North Lancashire and in 2011, he became the CEO of NHS West Midlands.

On taking up this role, he also became a member of the national Management Board for the NHS in England.
 
Honorary doctorate

Professor Yueguo Gu is a distinguished alumnus of Lancaster University, where he studied for MA and PhD degrees.

He is currently the Executive Dean of the Online Education Institute and Pro-President of Beijing Foreign Studies University as well as Professor and Head of the Department of Contemporary Linguistics in the Chinese Academy of Social Sciences.

He played an important role in developing the institutional connections in teaching and research between Lancaster University and Beijing Foreign Studies University.

He is a co-chief editor of the Journal of Contemporary Linguistics and on the advisory editorial boards of ten international journals.

He has received several awards in China, where he is the author of an influential and widely-used series of English language textbooks and the editor of an influential book series and national journal.