Honorary Degrees 2011
07/22/2011 00:00:00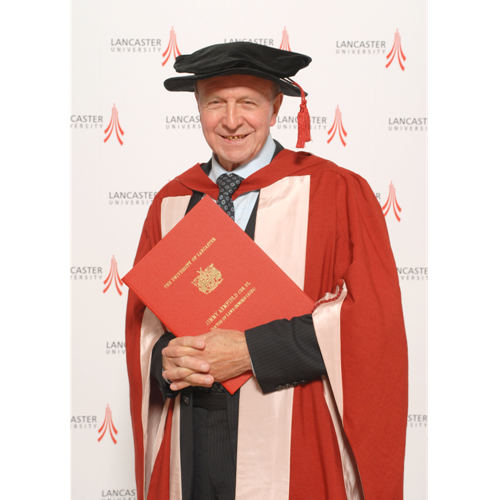 ​Lord Smith of Finsbury (former Cabinet Minister Chris Smith) and the Chief Medical Officer for England Sally Davies are among five people distinguished in their field who have been awarded honorary degrees by Lancaster University at the graduation ceremonies in July.
The others include nuclear expert Dame Sue Ion, former England football captain Jimmy Armfield and palaeoclimatologist Professor Lonnie Thompson. 

Chris Smith – Doctor of Letters

Lord Smith of Finsbury is the current Chairman of the Environment Agency. He was an MP until 2005, serving as the first Secretary of State for Culture, Media and Sport in 1997. In 2000 he re-introduced free admission to many museums after securing a tax rebate. He was created a life peer in 2005 as Baron Smith of Finsbury and sits as an independent peer.
 A former President of the Ramblers' Association, he has been the Chairman of the Advertising Standards Authority since 2007 and he also Chairman of the Wordsworth Trust in Cumbria.
  
Sally Davies – Doctor of Science

Professor Dame Sally Davies DBE is the Chief Medical Officer for England advising the Government especially with regard to public health. She is also the head of the Medical Civil Service. 
As Director General of Research and Development at the NHS, she established the National Institute for Health Research with a budget of £1bn.  Other new NHS initiatives under her leadership include experimental medicine and cancer research facilities and the Biomedical Research Centres.
She has advised the World Health Organisation as well as health organisations from the Caribbean to Australia and Singapore.

Jimmy Armfield – Doctor of Laws

Jimmy Armfield, who was born in Lancashire, played the whole of his career at Blackpool, where he was  voted Young Player of the Year in 1959 and spent a decade as club captain.
He won 43 caps for England between 1959 and 1966 and captained his country fifteen times. He played in the 1962 World Cup in Chile where he was acclaimed as the "best right back in the world". He was included in the 1966 World Cup squad which England won but missed out on the tournament due to injury.
Following an FA campaign to persuade FIFA to award medals to all the squad members, he was presented with his medal by the then-Prime Minister Gordon Brown at Downing Street in 2009. He was awarded the CBE for services to football in the New Year's Honours List

Sue Ion – Doctor of Science

A prominent figure in the UK nuclear industry, Sue Ion chairs the UK's Fusion Advisory Board. Formerly a Group Director of Technology for BNFL, Dr Ion received an OBE in 2002 and was made a Dame in the 2010 New Year's Honours List. Originally from Cumbria, she attended Penwortham High School for Girls near Preston and now lives in Leyland.
A Fellow of the Royal Society of Engineering, she is a keen advocate of the nuclear sector in the North West and was prominent in both the Sizewell projects and the THORP project at Sellafield. Her business career with BNFL, firstly at Springfields near Preston, Sellafield and Risley, has benefited the region in terms of its academic research base, employment and international experts.
 
Lonnie Thompson – Doctor of Science

Lonnie Thompson, Distinguished Professor in the School of Earth Sciences at Ohio State University, has provided valuable evidence about long term changes in the earth's climate. He was the first scientist to retrieve ice samples from a tropical ice cap and analyse them for information about the prehistoric  climate.
His observations of major glacial retreat over the past three decades confirm that glaciers around the world are melting and he was a key advisor to Al Gore for his film on climate change called "An Inconvenient Truth".