Gian Fulgoni funds a Chair in Marketing at Lancaster
06/09/2011 00:00:00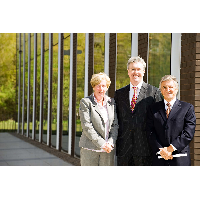 Gian Fulgoni, Executive Chairman of ComScore, has made a personal donation to support the continuing success of the Marketing Department at Lancaster University Management School.

An alumnus of the department, Gian's generous donation of $625k, spread over five years, was prompted by a recent return trip to Lancaster after 40 years away from the University. An internationally recognised leader in the field of Market Research and award-winning entrepreneur, responsible for many innovations in his profession, Gian achieved career success in the USA after taking an MA in Marketing from Lancaster.

He said: "My Marketing MA from Lancaster was one of the most significant events in my career. Indeed, it was the stepping stone for me to get to the US. It is a terrific program and I would recommend it without hesitation to anyone who is looking to enter the marketing field."

Professor Margaret Hogg, the current Head of the Department of Marketing, will be the first Fulgoni Chair in Marketing. Her specialisation is consumer behaviour research with a specific focus on consumption and consumer culture theory. In particular, qualitative studies to understand consumer behaviour across different marketplaces, and also public policy and social marketing links, drawing on psychology, sociology, anthropology and social psychology.

Professor Sue Cox, Dean of Lancaster University Management School said: "We are extremely grateful to receive this significant donation. Right from the start, LUMS has delivered practical, powerful management education.  We honour Gian's desire to invest in and inspire the next generation of talented LUMS marketing students, and truly appreciate his generous support of the Management School."

Gian made his gift by donating publicly tradeable shares of stock to Friends of Lancaster University in America Inc., a 501(c)(3) non-profit organization which supports Lancaster University in the UK. The Board of Friends of Lancaster University in America Inc. was delighted to respect Gian's wishes that the gift support a department which made such a difference to his life.

​