Funding puts film company in focus
02/21/2013 00:00:00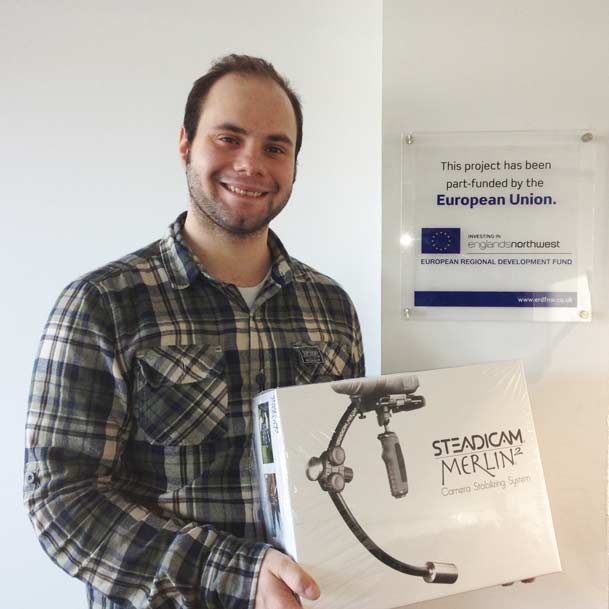 ​A former Lancaster University student has realised a dream of starting his own film production company.
Greg Tomaszewicz used his entire student loan to fund the burgeoning business, Lanor Productions.
Now, through the help of the Enterprise Team at Lancaster University and access to funding opportunities, Greg has been able to purchase vital equipment to help him expand his business.
Greg started Lanor Productions as a student at Lancaster University and, after completing his geography degree,  set up his business in the city. He soon realised he would be unable to progress his business without financial help.
He explained: "'I started Lanor because I loved filmmaking and wanted to run my own business but soon I realised my entire student loan was spent on equipment and every pound I made was invested into Lanor.
"It became a reflex and, very quickly, I realised that running a video production company is no picnic. Equipment is very expensive! And there was so much equipment I needed to make productions better and more professional. But equipment was money, and money is time."
With the assistance of the University's Enterprise Team, Greg was able to access Proof of Concept funding.
The Proof of Concept Fund, awarded in association with Lancashire County Developments Limited (LCDL), gives out non-repayable investments of up to £2000 to students and recent alumni starting up a business.
The fund enables good business models to be trialled where students and alumni could not otherwise afford to trial them.
Greg used his funding to purchase a Merlin steadycam2 and an LED light, both of which have helped him widen his market and work with a new range of clients he was unable to work with before.
Greg, who now works all over the UK and in Europe, adds: "I am extremely happy and excited about this, and have to say that without schemes like this and people that believed in my ideas, the dreams I had would not be possible. A million thanks for boosting Lanor Productions into a new, smooth and steady (cam) market!"
If you have an idea and you're interested in taking the next step towards turning it into a social or commercial enterprise come along to the next Business Start-Up Boot Camp on the 25 and 26 March. Register your interest at
http://businessstartupmarch2013-eorg.eventbrite.co.uk/
#.
For more information about the Proof of Concept Fund please contact the Enterprise Team in Research and Enterprise Services.