First Lancaster University Student Enterprise Awards
11/25/2011 00:00:00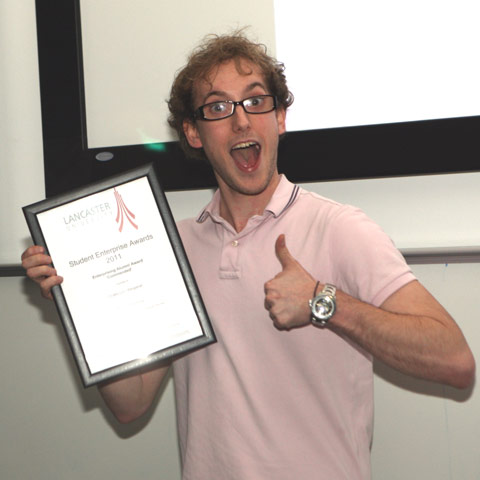 ​The achievements of student and graduate entrepreneurs have been recognised at the first ever Lancaster University Student Enterprise Awards.

The celebration event at Lancaster University Management School was the culmination of a packed programme of events for Global Entrepreneurship Week 2011.

From innovative student entrepreneurs who have created full time jobs for themselves to successful placement students, the Enterprise Awards rewarded those who are working hard to stand out in an increasingly competitive jobs market.

The keynote speaker was Kirsty Henshaw of Dragon's Den fame, and her belief that hard work, common sense and making her own luck have been the main ingredients of the success of her company Worthenshaws Limited.

The main awards of the evening were Student Enterprise of the Year (Sarah Cooper, Black Zest Solutions Ltd), Placement Student of the Year (Sharon Crane) and Enterprising Alumni Award (Freedom Deli Limited – Angela Murtagh) .

Global Entrepreneurship Week (GEW) is a worldwide movement encouraging people from all walks of life to be more enterprising in all that they do.

This year over 400 Lancaster students took part in a week of events and competitions from a Mobile App Development Day and the first annual 'SimVenture Challenge' to the 'Enterprise: Battle of the Colleges Friendly'.

Activities are designed with student enterprise and employability in mind and this year Lancaster University was awarded 'High Impact Status' for its committed and engaging programme of opportunities.

The Coffeematt Challenge, a business idea competition, had a substantial impact on students with a massive 41,000 votes being posted online for over 500 student business ideas entered via the Lancaster University competition website and iLancaster app.

Jon Powell, Enterprise Champion in Research and Enterprise Services, said staff and students collaborated in the true spirit of enterprise to deliver a vibrant and inspirational GEW for Lancaster's students.

If you have any ideas for enterprise or employability sessions or competitions for GEW 2012 please share them at http://www.lancs.ac.uk/users/gew/.

Global Entrepreneurship Week is organised through the Northwest Enterprise Champion project, part financed by the European Regional Development Fund.