First fifty businesses announced in £9.8m eco innovation centre
10/11/2012 00:00:00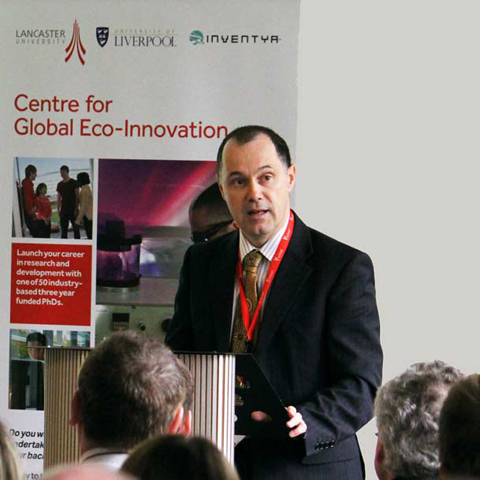 ​Fifty businesses have been selected to work intensively with university researchers and graduates on environmentally friendly products and services in a radical new research centre.
The Centre for Global Eco-Innovation is led by Lancaster University in partnership with the University of Liverpool and Inventya Ltd.
The centre secured £4.9m from the North West Operational Programme for European Regional Development funds  to provide research and development expertise to hundreds of the region's businesses, bolster the region's economy in key export markets and drive forward improvements in green technology and services.
Each successful business has been matched with a graduate who will undertake a three-year programme of collaborative research to develop new products, processes and services for the global marketplace that have positive environmental benefits.

Some examples of research projects include:

* Energy saving in buildings through design, monitoring and advanced control techniques.
* Water improvement through techniques in catchment management, understanding and control of points of pollution.
*Materials savings through application of specialist manufacturing techniques and nanotechnology

The graduates are using these collaborations as the basis of a PhD programme of study starting October 2012.

On Wednesday, October 10, Lancaster University's Vice Chancellor, Professor Mark E. Smith congratulated the businesses, graduate researchers and academic staff for having the vision to take part in something completely new.
He said: "Here at Lancaster we are proud to be one of the leading research powerhouses in the North West and we are proud to be associated with the region but we also have global reach and ambition to have an impact on the world.  This new centre is an excellent example of that ambition and our willingness to do things differently.
"I am incredibly supportive of this model and I genuinely believe that collaboration between research and industry is a hugely enriching environment."
The centre will also provide expert help to a further 235 regional businesses to develop new, greener products and services, resulting in significant savings in terms of greenhouse gas emissions, water, waste and energy, make measurable contributions to the region's economic recovery and deliver a significant number of new jobs to the region.
Dr Mark Bacon, Faculty Director for Business Partnerships & Enterprise in Science & Technology  said: "The Centre for Global Eco-Innovation is a partnership on an unprecedented scale and a huge asset for Science and Technology at Lancaster, using PhD programmes in a novel way to form new long-term partnerships with businesses. The 50 doctoral projects have the potential to make a real difference to people's lives and have a positive impact on the environment. I am particularly keen that we have projects with SMEs spread across several Science and Technology Departments at Lancaster and Liverpool."
At Lancaster, the project is directed by Dr Mark Bacon, Faculty Director for Business Partnerships and Enterprise in Science and Technology and Dion Williams, Head of Knowledge Exchange Support. The Centre's project manager is Dr Andy Pickard and the academic lead at Lancaster is Professor Nigel Paul. At the University of Liverpool the project is managed by Dr Matt Fulton, Project Manager and Professor Andy Platter, Academic Director.