Landscapes
12/02/2005 11:21:07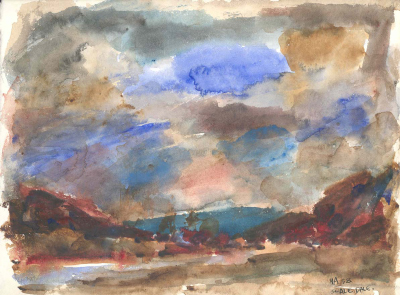 Norman Adams, Swaledale, 1958, watercolour on paper ©
the artist's estate
An exhibition of landscape works from Lancaster University's Art Collection, including oil paintings, watercolours and prints. The exhibition features works by Alfred Cohen, Henri Hayden, Friedensreich Hundertwasser and Winifred Nicholson, and two cityscapes by L.S. Lowry.
The exhibition will also show a wide range of watercolour paintings by Norman Adams (1927-2005), focusing on the different landscapes which influenced his work, including the Yorkshire Dales, the rugged coast of the Scottish island of Scarp and the olive groves of Provence.
The exhibition will also be a unique opportunity to purchase work by Norman Adams.
5 – 17 December 2005 & 9 – 28 January 2006
Main Gallery, Peter Scott Gallery, Lancaster University, Lancaster, LA1 4YW
www.peterscottgallery.com Tel: 01524 593057
Opening during exhibitions: Now open on Saturdays during exhibitions

Monday-Saturday 11am-4pm
Late Thursday 11am-9pm
Admission free

GALLERY SHOP
A wide selection of gift items is on display at the gallery shop in the run up to Christmas, including silver jewellery by Anne Woodrow, lustred porcelain jewellery by Sarah Perry, and ceramics by Michael Eden, Alex McErlain and Shelagh Spear.