Lancaster Students share in £1 million scholarship
12/03/2004 09:29:48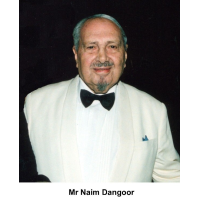 information about eligibility criteria and an application form
Science Students at Lancaster University are set to benefit from a share in a £1 million scholarship from a former asylum seeker who wanted to give something back.
The new scholarships, which will be shared between 16 of the UK's top research universities, were donated by Naim Dangoor.
Up to 60 Lancaster science students are set to benefit from the scheme – a combined total of around £60,000.
Mr Dangoor, now 90, arrived in the UK from Iraq in the 1960s after he fled the country when the Baath party took control. He settled in England, where he had studied engineering decades earlier, and built up a property empire.
Now he and his family want to give something back to the country that provided them with welcome, refuge and support.
Next year 1,000 specially selected scholars will receive £1,000 to support their first year of study at a 1994 Group University, thanks to the generous donation. The 1994 Group of Universities - which includes Lancaster University - are leading research Universities that provide students with an outstanding academic experience.
Mr Dangoor said: "I promised myself that if I was ever able to help a British University student I would, to assist the native people of the country that welcomed me. But I never dreamt I would be able to make such a big contribution."
Lancaster University Vice Chancellor Professor Paul Wellings said: "We are delighted that through these scholarships students who show great potential will be helped to study at a top research institution. Lancaster has chosen to use the scholarships to support talented first year students who wish to study the sciences and give them an opportunity to take advantage of the excellent science teaching and the newest facilities that we have here."
The Dangoor Scholarships will support some of the most promising students in England and Wales; many of whom will be students in financial hardship or with no family history of higher education.
The Dangoor family see the scholarships as offering opportunity for some of the best students, who through financial or other barriers might not be able to realise their full potential. The Dangoor Family know that support of this kind can help to transform people's lives and the life of the country. They hope this will act as a beacon to others who can provide similar support to help make a better society in this country.
The scholarships are available to UK citizens, currently resident in England and Wales who are entering full-time undergraduate education in 2005/06 at a 1994 Group University.