Three peaks in three days
01/19/2007 09:38:52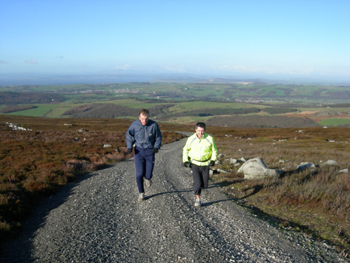 Ian Mercer and John Statter in training
Two technicians from Lancaster University have set themselves an extreme challenge for charity - to climb the three highest mountains in Britain within three days.
Ian Mercer and John Statter also aim to cycle the 460 miles between Ben Nevis in Scotland (1344 metres), Scafell Pike in the Lake District (977m) and Snowdon in Wales (1085m).
Both men, who work in the Physics Department, are appealing for sponsorship for the challenge this summer, which is to raise funds for the Coronary Care Appeal at the Royal Lancaster Infirmary.
They also need the loan of a camper van for five days to carry their support team as they cycle from one peak to the next.
Ian said: "Some of my family have been cared for in the hospital a few times so it's payback time."
They are already extremely fit, with Ian having completed the London Marathon twice and the Yorkshire 'Three Peaks' fell race three years in a row and John two coast-to-coast cycle trips.
Now they are running up Clougha Fell near Lancaster to build up their stamina for the gruelling climb up the three highest peaks in the UK.
Ian, who is a member of Lancaster and Morecambe Athletics Club, said: "We're going to start off with Ben Nevis because that's the highest and we'll have the most energy for the first one".
"We're aiming to spend four hours up and down each mountain plus 10 hours cycling the 150 miles each day to the next one. If we cycle at 15mph we should be able to do it.
John Statter said he is looking forward to it.
"It should be fun. I do a lot of cycling anyway – every day I cycle in from Heysham to the University which is a round trip of around 20 miles and I go out at weekends. I've got an indoor trainer at home too and I've started running with Ian."
The challenge, starting on May 18 has taken two years of planning. Anyone able to loan the team a camper van for the three day challenge or who wishes to sponsor them should contact Ian Mercer at i.mercer@lancaster.ac.uk or j.statter@lancaster.ac.uk. Any other help and advice would be greatly appreciated.
www.lancs.ac.uk/staff/merceri/pages/home.html