Help And Support For Contract Researchers
12/30/2007 12:50:28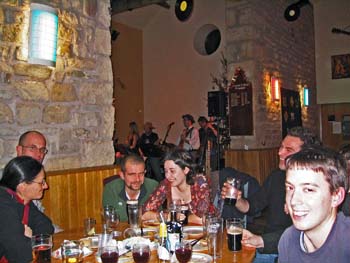 The Christmas Party at Barker House Farm
A Christmas party has been held for contract researchers at Lancaster where they were thanked for their contribution to the University's success.
The party at Barker's House Farm, Cartmel College, was organised by the Contract Research Staff Association, which plays an important role in counteracting the feeling of isolation felt by lone researchers, who often carry out complicated research projects to a tight deadline.
The Association invited all researchers to the Christmas party where they were met by the Pro-Vice Chancellor for Research, Prof Trevor McMillan, who thanked everyone for their valuable contribution to the success of the University's research activity including the Research Assessment Exercise and the winning of external research project funding.
Prof McMillan explained how his career had developed from being on short term contracts for nine years before gaining a non-time limited position. He discussed how researcher numbers at Lancaster have increased, and that they are no longer associated solely with a science based model of research because other areas of the University increasingly work in research teams. He urged researchers to make the most of their time at Lancaster, and to benefit from help in developing their long-term career plans.
There are over 300 researchers representing more than 50 nationalities on campus.
Dr Barbara Tigar, Contract Research Staff Training Adviser, said: "Over the last 18 months Lancaster University has increased its recognition of and support for researchers. This includes a new programme of professional researcher training, in response to the national agenda on the career development of Contract Research Staff.
"Their career development is given special attention, and they are encouraged to take part in formal training and career development designed to help them make the most of their research positions, and equip them for their next career move.
"Lancaster University continues with its aim to recruit, train and retain highly skilled and motivated researchers, and to develop its reputation as a great place to live and work."