Could you trade a paperclip for a house?
01/29/2010 10:25:12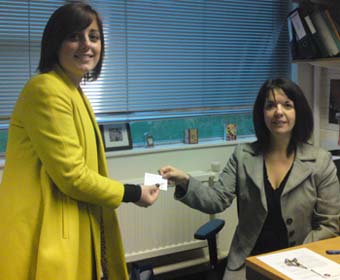 LUYES president Lauren Dalton-Jarvis trades her paperclip with Louise Briggs from LUMS
Lancaster University Young Entrepreneurs' Society is to distribute a thousand paperclips across campus as part of a charity competition inspired by a Canadian blogger who swapped one for a house.
Kyle McDonald from Montreal achieved worldwide fame in 2006 when he swapped a red paperclip online for a house in just 14 swaps.
Andrew Pickering of Lancaster University's Young Entrepreneurs' Society said: "We're going to distribute a thousand paperclips in boxes around campus to find out how far people can go in trading up. We don't expect anyone to get as far as a house but just to see what they end up with. It's a great way of developing negotiation skills, networking ability, confidence and creativity."
The students' first swap – for an hour's session with Louise Briggs, Employability, Enterprise and Careers Manager at LUMS – was traded for a night's entertainment worth £200 with a magician, while another paperclip has already been traded for a TV.
Their inspiration is Kyle McDonald, who began by swapping his paperclip for a pen, followed by – among other items- a doorknob, a neon beer sign, a recording contract, a rent-free year in a house, an afternoon with the rock star Alice Cooper, a snow globe, and a part in a Hollywood movie.
The final swap happened after the town of Kipling in Canada entered the bartering by giving Kyle MacDonald a house in return for the film role, which it then raffled off in a local competition.
Any staff or students at Lancaster University interested in taking part should pick up a paperclip from the Porter's lodge or download a digital version from www.luyes.eu/paperclip. Register by sending a blank email to trading-event@hotmail.co.uk
Trade the paperclip for something better as long as this is not cash, and repeat as many times as possible before the finishing date of the contest on Friday May 7.
The final trade will be sold at the LUYES charity auction, with all money raised donated to the NSPCC. The item which fetches the highest price at auction will win a cash prize equal to the value of its final sale price, up to the value of £250.