Infolab21 shortlisted for design prize
08/12/2005 11:36:26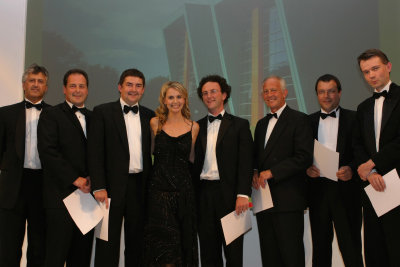 The Infolab21 team: Ian Fleming (HBG), Chris Howiston
(FaulknerBrowns), Mark Swindlehurst (Lancaster University),
Eldred Godson (FaulknerBrowns), Maarten Van der Marel
(Lancaster University), Andrew Kane (FaulknerBrowns),
and Andrew Neal (Lancaster University) with Debra
Stephenson (centre) at the awards ceremony.
InfoLab21, the landmark building based at Lancaster University, has been shortlisted for a major design prize.
InfoLab21,Lancaster University's centre for excellence in ICT (Information Communications and Technology), beat off competition from entries around the whole of the north including Scotland, to be one of two buildings shortlisted in the corporate workplace category, for the prestigious British Council for Offices Awards (Northern Region).
The national winners and the coveted "Best of the Best" award are selected from regional heats and will be announced at the awards dinner normally attended by over 1,200 industry representatives at the Grosvenor House Hotel in October each year.
Designed by FaulknerBrowns, Architects, and built by HBG Construction Ltd, the copper-clad building includes state-of-the-art computer facilities, offices, teaching space, a glass atrium and café with roof terrace and sedum garden.
A key aim of the Centre is to promote and accelerate technology transfer between the ICT research in the University and the local and regional industry, especially small and medium sized enterprises (SMEs).
InfoLab21 co-locates more than 250 ICT experts in the academic wing with around 20 specialised ICT SMEs in the Knowledge Business Centre, as well as an ICT- focussed training suite for the benefit of the local and regional industry. The new building forms the physical hub of a virtual network of more than a hundred companies in the region.
David Walters, the BCO Awards Chairman said: "The awards, now in their fourteenth year, are held in high regard by the property industry. The judges of the awards are known for their integrity and rigour and, as a result, these awards are much sought after."
Lancaster University's Director of Estates Mark Swindlehurst said: "This is the first time a university building has been shortlisted for 'best corporate workspace' in this prestigious competition, which has entries from state-of-the-art buildings from throughout the UK. A key aim of InfoLab21 is to assist local and regional businesses and I am delighted that the design of the building fits this purpose so well."