An evening of new dance works by Lancashire artists - Dance Cuts
02/04/2004 16:25:03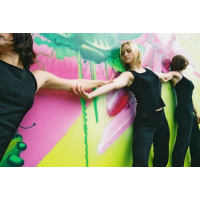 For the first time Ludus Dance will be presenting a collection of dance pieces devised and performed by Lancashire artists at The Nuffield Theatre, Lancaster University. This series of short pieces will include Quintet, choreographed by Hannah Robertshaw, a performance by CO3 and the premiere of the Lancashire Youth Dance Company's new work by Filip Van Huffel of Retina Dance Company.
The evening also includes Night Side, a duet exploring the "nocturnal side" of human experience, choreographed by Nigel Stewart and performed by Penny Collinson and Cath Sims.
Quintet
Dancers: Anna Daly, Rachel Towe, Louise Brown, Philip Nelson, Andrea Frisch.
Choreography: Hannah Robertshaw
Music: Blue States
"Quintet" has been choreographed by Hannah Robertshaw on Ludus Dance Artists from the Dance Development Team. The team has worked with Hannah over a series of weeks to explore different movement phrases and structural devices. The group have also experimented with the use of different musical styles and explored how this affects the dynamic of the work. This is very much a work in progress!
The dance development team does not perform as part of their role with Ludus and this is the first performance project they have undertaken together.
Lancashire Youth Dance Company
The Lancashire Youth Dance Company is made up of talented young dancers, aged between 14 and 22, from across Lancashire. All of the young people attend regular Ludus youth dance groups and were chosen because of their commitment and passion for dance. Many hope to pursue a career in dance or the arts. This exciting young company are Lancashire's dance stars of the future!
The company will be premiering two new works at this event. The first is choreographed by Ludus Dance Artists and explores stereotypical views that men and women have toward each other. This piece is performed by all 18 company members.
Nationally renowned choreographer, Filip Van Huffel of Retina Dance, choreographs the second piece. The piece is danced by 8 dancers and will go on tour this spring.
NIGHT SIDE
Choreographed by Nigel Stewart
Performed by Penny Collinson and Cath Sims
Music by Robert Shumann (Andantino from Piano Sonata No. 2 in G minor Op. 22)
Night Side, a duet exploring Justinus Kerner's ideas on somnambulism, mesmerism and the spirit world or unconscious. Night Side has been created from this network of associations, and an interest in the relationship of musical form to dramatic and choreographic structure.
Company Three Dance Theatre
SandStorm
Choreographer: Julia Griffin
Music: Spazmo Dwang
Costume design: Rachel Mallon
Dancers: Isabel Clegg, Claire Morris, Lynne Payne
Based on Julia's memories of Blackpool and in particular the Tower Ballroom, Julia explored the essence of the ballroom waltz. She transformed the waltz into a modern dance, conjuring images of a Sand Storm - "the energy of the storm the expanse of a desert".
For review tickets or further information please contact Sarah Nash at The Nuffield Theatre on 01524 594160 or email sarah@nuffieldtheatre.com or Cath Sims at Ludus on 01524 35936 or email cath.sims@ludus.org
Nuffield Theatre, Lancaster University
Saturday 7th February at 8pm
Box Office 0800 028 3042. Tickets: £5, £3.50 concessions