Physics Department collaborate with Royal Mail
10/01/2002 11:04:10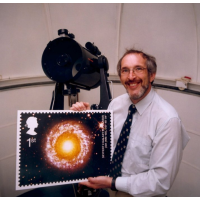 Lancaster University's senior lecturer in physics Dr Ian Bradley helped Royal Mail to launch its latest set of special stamps at the University's Dame Kathleen Ollerenshaw Observatory on Monday 16th September.
The four First Class Astronomy stamps which went on sale on September 24, altogether make up a picture which features two galaxies and two nebula on one 'mini' sheet.
Dr Bradley said: "We are delighted that Royal Mail has chosen to launch its Astronomy stamps here. Astronomy is physics in action. It's fantastic to see."
The observatory which was officially opened in May of this year by the well-known TV personality, Sir Patrick Moore CBE, FRS, FRAS, and is named after a former Pro-Chancellor of the University, Dame Kathleen Ollerenshaw.
Royal Mail's Area Manager for Lancaster, said: "We are delighted to have linked up with Lancaster University to launch these out-of-this-world stamps."
Three of the four images on the stamps - Planetary Nebula in Aquila; Seyfert 2 Galaxy in Pegasus; and Planetary Nebula in Norma - were captured by the orbiting Hubble telescope, with the fourth - Seyfert 2 Galaxy in Circinus - coming from the Subaru telescope, operated by the National Astronomical
Observatory of Japan and located at the summit of Mauna Kea in Hawaii.