Lancaster University awards Honorary Degrees
02/22/2005 11:56:10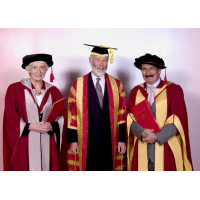 One of Britain's most senior judges and a leading professor of fertility studies were awarded honorary degrees by Sir Christian Bonington, Lancaster's newly installed Chancellor.
Dame Janet Smith, who presided over the inquiry into the Shipman case, and Professor Lord Robert Winston, Professor of Fertility Studies at Imperial College, London and Director of NHS Research and Development at Hammersmith Hospital, were given their honorary degrees on March 9th, as part of a special ceremony marking the installation of Sir Christian at Lancaster Town Hall.
Please follow link for further photograph http://domino.lancs.ac.uk/info/lunews.nsf/I/AA16ADD287F0192380256FC10054F5EB
Dame Janet, remarked that Sir Christian had now 'joined the club', as both she and Professor Winston are Chancellors of universities - she of Manchester Metropolitan and Professor Winston of Sheffield Hallam.
The Right Honourable Lady Justice Smith, Doctor of Laws (honoris causa), holds one of the most senior positions in the judiciary as a Lady Justice of Appeal. Brought up in the North West, she read for the bar as a mother with children, practised in Manchester, took silk in 1986, and was appointed a High Court Judge in 1992. Since 2001 she has presided over the Inquiry into the Shipman case, demonstrating a formidable ability to evaluate a vast body of evidence, authority in the judgements she has made about the implications of the case and constructive care for the families damaged by the events concerned.
Professor Lord Robert Winston, Doctor of Science (honoris causa), has made many important contributions to reproductive medicine in endocrinology, IVF and reproductive genetics. He has always been committed to contributing to discussion about the social implications of the treatments his work has made possible.
He has presented many successful television series that have enhanced public understanding of medicine and human development. As a member of the House of Lords, he speaks there on education, science, medicine and the arts.