Lancaster Student at Downing Street Reception
01/14/2011 00:00:00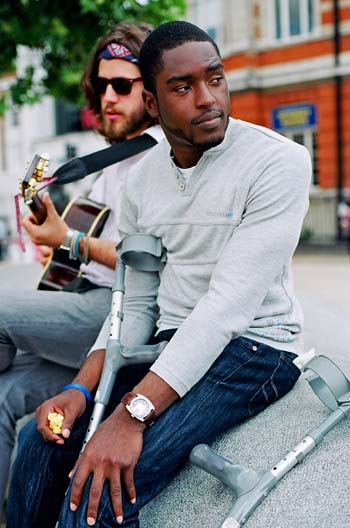 Raphael Oyelade
A Lancaster student has attended a reception at 10 Downing Street with the Prime Minister David Cameron and X Factor winner Alexandra Burke after being shortlisted for the Spirit of London Awards.
The awards, whose judges include the Home Secretary Theresa May and footballers Rio Ferdinand and Ashley Cole, celebrate young people who are positive role models in the community.
Raphael Oyelade, an Astro Physics undergraduate, is a talented singer who has already recorded his debut single My Last Song I Sing For You. The music is for sale on YouTube with all the proceeds going to the homeless children's charity Kids Company.
As well as the Prime Minister, he mixed with celebrities at the reception including the winner of the X Factor Alexandra Burke and the latest Simon Cowell signing Labrinth (sic).
He said: "Downing Street was a massive opportunity for people to network about what they're doing and it was really cool. Ideally I would like a career in music but my degree is number one at the moment. I've always been interested in space since I was little and I couldn't imagine doing anything other than astrophysics."
He is currently a soloist in the University Music Society choir as well as leading the University Pentecostal Gospel choir.
The University Chaplain, The Rev Kevin Huggett, is Raphael's tutor at Furness College.
He said: "He's got a fantastic singing voice and he's in lots of choirs, including the chapel choir. I'm impressed with the way he's risen above the challenges that he's faced in life to do so well in all sorts of areas."
Born in Nigeria, Raphael suffered from polio as a baby and walks using crutches. He grew up in South London, where he became head choir boy of his local church and joined the cadet force, becoming Company Sergeant Major.
His other achievements include completing the outward bound stage of the Duke of Edinburgh's Gold Medal award which included a four day walking expedition in Dartmoor on crutches.
He also helped organise events for young people including Loud Tate, an art and musical performance day at Tate Britain. During his summer holidays, he taught maths to local children at a community centre in Brixton.