Lancaster wins again for teaching excellence
07/04/2007 09:09:48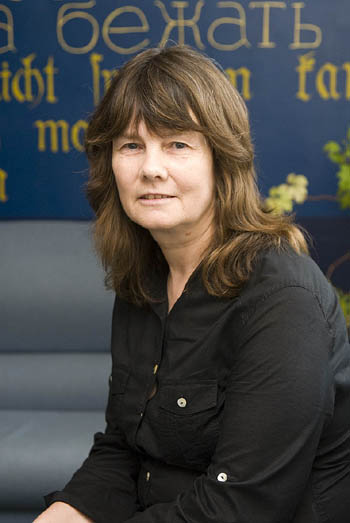 Dr Jane Sunderland
For the seventh year, Lancaster University has a winner in the prestigious National Teaching Fellowship Scheme (NTFS) organised by the Higher Education Academy.
Dr Jane Sunderland, Senior Lecturer in Linguistics at Lancaster University, is one of 50 award winners for 2007, chosen from 223 nominations who will each receive awards of £10,000 to support learning and teaching activities.
A teacher for more than 30 years, she combines her own research experience in the field of linguistics, language education and doctoral education to guide and inspire others conducting doctoral research in the social sciences.
She has made a significant contribution to innovation in research degree training at Lancaster, both through her own programme development and student supervision, and through her extensive research and publications. She has initiated two 'thesis and coursework' doctoral programmes which introduce non-traditional students to the excitement and rigours of PhD research.
'I start with the assumption that the students are mature professionals, like myself, and have a lot to offer each other,' Jane comments. 'I integrate this into my teaching, for example through shared online work. I take the view that knowledge and understanding are socially, discursively constructed, and can accordingly be 'talked into being', in particular through pair and group work, and whole-class discussion.'
Identifying that becoming a member of a new academic community is often difficult, Jane organises extracurricular activities, creating a bond between students who are required to work together during the distance parts of their modules, enhancing the quality of the following online interaction and discussion.
Jane has changed the way doctoral and distance education is perceived in her department. As one colleague says: 'Without doubt, Jane's biggest contribution to staff development is in showing how effective doctoral schemes may be devised for research students studying at a distance… This success is now trickling down to other levels of student learning. In fact, I have recently created a Masters scheme by distance, and the structure of this, not to mention the mechanics of how it will be run, owes much to the inspirational doctoral schemes that Jane devised and ran.'
The Fellows will receive their awards at a ceremony and dinner in London on 19 September. The National Teaching Fellowship Scheme (NTFS), launched in 2000, recognises and rewards teachers and learning support staff in higher education in England and Northern Ireland for their excellence in teaching and is funded by the Higher Education Funding Council for England (HEFCE) and the Department for Employment and Learning in Northern Ireland.
Lancaster has had a total of eight winners (including two in 2004) in the scheme since 2000.