Mature graduates are first class
07/16/2010 11:15:10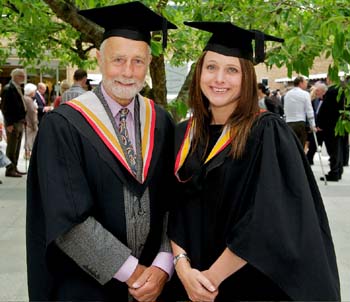 Peter Standing and Sarah Evans
A retired GP and a former stockbrokers' manager from Blackpool have both graduated with first class degrees in Geography from Lancaster University.
Peter Standing, who's 63, and Sarah Evans, who's 33, also jointly won the Geography prize for the highest marks in both the second and third years.
Peter began his BSc degree the day after he retired from 29 years as a GP in Bury.
He said: "I have had a marvellous three years at Lancaster and can fully endorse the University's reputation for providing very positive learning experiences for students".
He became interested in geography through a lifetime interest in education, caves, mountaineering and travel, having visited 123 countries. He is a member of Westmorland Geological Society and the well-known Lake District Fell and Rock Climbing Club whose members include Lancaster University's Chancellor and mountaineer Sir Chris Bonington.
He lives in the South Cumbrian village of Storth and was able to carry out geographical coursework within his home area of the Arnside and Silverdale Area of Outstanding Natural Beauty (AONB) with studies on the landscape history of Beetham, the biogeography of Arnside Knott, the housing history of Storth and a dissertation on limestone pavements. He is now Events Organiser for the AONB's Landscape Trust but plans further geological and geographical part time study.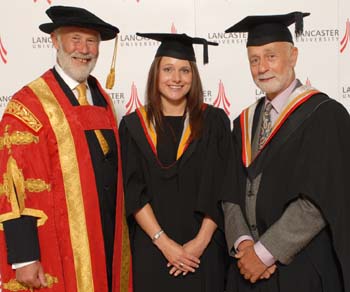 Chancellor Sir Chris Bonington congratulates Sarah Evans and Peter Standing
Sarah Evans, who lives in Lytham St Annes, attended Arnold School in Blackpool before joining James Brearley and Sons Stockbrokers in Blackpool as a receptionist. She rose to become Operational Manager at the firm's head office but rethought her career while on maternity leave.
She said: "My decision to return to university was driven by a realisation that I wanted to become a secondary geography teacher. It was one of the hardest decisions that I have had to make as, firstly, it meant undertaking a full time three year degree course with two children under the age of two, followed by a one year teacher training course.
"The past three years at Lancaster University have been demanding, but stimulating and very enjoyable, and I would recommend studying at the university to anyone whatever their age. Over the years I have made many good friends (both young and older) and been taught by some amazing lecturers who have greatly enhanced my learning experience."