Crop company flourishes in partnership with Lancaster Environment Centre
03/06/2007 14:09:19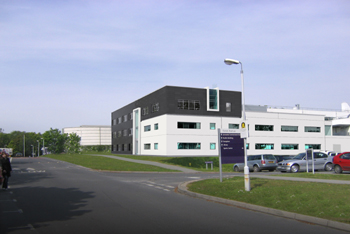 A Lancashire agrochemical company and the Lancaster Environment Centre (LEC) have forged a research partnership which will find better ways of improving crops without harming the planet.
Growing global populations mean there is a rising demand for efficient food production but consumers and retailers are becoming more aware of the potential environmental damage caused by intensive agriculture.
Plant Impact plc is a Preston-based developer and manufacturer of ecologically safe agrochemicals which improve crop health and crop quality. Through working with LEC, the company will gain access to some of the UK's top scientists working in this field.
Plant Impact's products are typically based on naturally occurring chemicals which help crops to harness their own natural defence mechanisms to fight off pests and diseases.
The products do not leave any residues on the crops and are safe to use. They are proven to raise crop yields by up to 80 per cent in harsh environments.
The research partnership between Plant Impact and LEC has the potential to dramatically improve crop yields and crop quality in global food production systems. The first phase of the research aims to fully understand how one of Plant Impact's crop protection products functions. This knowledge will then be used to develop the company's next generation of products.
Lancaster Environment Centre, based at Lancaster University, has a dedicated plant sciences team which researches the impact of environmental stresses on plant growth. LEC is one of the largest environmental research centres in Europe. It is also developing research partnerships with a range of companies from industries which are essential to global sustainability – for example the horticulture, agriculture, energy, water and chemicals industries.
Plant Impact will eventually be based in the new £8.4 million extension to LEC which will include accommodation for companies wishing to benefit from Lancaster University's expertise. The development has been is funded by £3.5 million of external funds from the European Regional Development Fund and the Northwest Regional Development Agency (NWDA), in addition to University funding.
Paul Tanner, Business Partnerships Manager for Lancaster Environment Centre, said: "The Lancaster Environment Centre has impressive research facilities such as laboratories, instrumentation and academic knowledge, which companies find useful for developing new products and services. LEC also works with companies to discover ways of minimising their environmental impact.
"This relationship with Plant Impact plc is an example of how companies can access our facilities and use them to drive business growth."
Plant Impact's Technical Director David Marks said, as a rapidly-growing science and technology based business that was leading its field, Plant Impact was keen to outsource some of its research activity.
He said: "Lancaster Environment Centre understands our science and we can learn from each other."
Peter Blezard, Chief Executive of Plant Impact, said: "Rapidly growing global populations will mean that food production must be more efficient, but at the same time the food retailers and consumers are demanding improved quality, safer production and lower environmental costs. We can help fulfil these needs – we can boost yields with minimal environmental impact. The partnership with Lancaster Environment Centre will help us to deliver our solutions to the market more effectively."
Paul Tanner added: "The Lancaster Environment Centre can offer office accommodation to companies like Plant Impact plc, enabling them to locate their company or technical team here. Companies that do co-locate will be well placed to draw maximum benefit from what we have to offer."
● Plant Impact Plc was floated on the stock market (AIM) on Oct 16th. It develops and manufactures natural products for improving crop health and quality. For further info on the company go www.plantimpact.com
● LEC is one of the largest environmental research centres in Europe. The £25 million centre brings together around 300 researchers and lecturers, all working to find solutions to major environmental problems from tracking pollutants to generating sustainable energy. It is a joint venture between the Natural Environment Research Council's Centre for Ecology and Hydrology and Lancaster University. Housed in a state-of-the-art building on the University campus, it provides cutting-edge equipment and controlled environment facilities for the scientists who work there. For further information on LEC go to www.lec.lancs.ac.uk/index.htm