Lancaster Environment Centre to get 1.1m
04/06/2001 09:48:08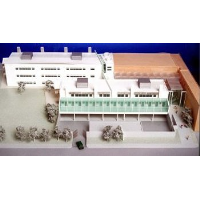 Lancaster University's new Environment Centre is to benefit from £1.1 million pounds of extra Government funding. The money, won in competition with research groups from all of Britain's Universities, is for special equipment to further boost Lancaster's world class research in Plant Physiology.
Lancaster's share is part of a £24 m boost for science that Stephen Byers, the Trade Secretary and Cabinet Minister for Science announced today.
Lancaster's Biological Sciences Department has a strong reputation for research into how plants cope in extreme environments. They are also concerned with the development of crops which will thrive in unfavourable conditions.
This is especially important with the threat of global warming. Predictions suggest that in many of the regions of the world which are important for crop growth there will be less water available during the growing season.
Professor Bill Davies, who co-ordinated the Lancaster bid said: 'This is great news for the plant sciences research group and for environmental research in Lancaster. We are getting a wonderful new building for the Lancaster Environment Centre and this and the new equipment will allow us to greatly expand our work into new areas. The Lancaster Environment Centre is a mark of Lancaster's excellence in the field of environmental research. A key component of this is our high-profile work in the Plant Sciences. The work that formed the basis of this bid builds on ground-breaking work conducted here by leading figures such as Terry Mansfield FRS and the late Professor Alan Wellburn, both from the department of Biological Sciences'.
'The funding will purchase sensitive imaging equipment which will mean that our bioimaging capability will be among the best in the country. We will also be building up our capacity to detect minute concentrations of important hormones in plants and this will aid in our studies of the regulation of plant growth under stress. The grant will also allow us to increase our work in plant molecular biology. Particular interests are in increasing the water and nutrient use efficiency of crops'
Grants, from the fund distributed today, and totalling £24m have been awarded to 14 research projects at 12 universities across the country. These are the final awards from a fund run jointly by the DTI, the Wellcome Trust and the Higher Education Funding Council for England.
Stephen Byers said: 'This investment is part of our renewed investment in British scientific excellence to provide our scientists with world class facilities for their world-class science'. It will aid in our attempt to control man's impact on the environment.'