Professor Annette Kuhn, Inaugural Lecture
06/06/2003 16:57:39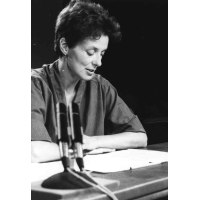 Professor Annette Kuhn (Professor of Film Studies) will deliver her inaugural lecture entitled Living within the Frame on Wednesday 11 June 2003 in the Faraday Lecture Theatre at 6.00 p.m., followed by a short response from Professor Richard Dyer of Warwick University
Annette took her Bachelor's and Master's degrees in Sociology at the University of Sheffield and a PhD on the history of film censorship at the University of London. She then embarked on an academic career in 1989, joining the University of Glasgow as a Lecturer in Film and Television Studies in January of that year.
Annette has previously worked as a writer, lecturer and editor, with jobs in publishing and television production, and for some years was a lecturer at the (then) Polytechnic of Central London's pioneering part-time Postgraduate Diploma in Film Studies, on which she had been among the first cohort of students.
At Glasgow she was promoted to Reader in Film and Television Studies in 1991, and then in 1998 moved to Lancaster University as Reader in Cultural Research. She was later promoted to Professor of Film Studies in 2000.
Annette has held Fellowships and Visiting Professorships at the Humanities Research Centre, Australian National University; at Mount Holyoke College (as Fulbright Senior Research Scholar); and at Stockholm University.
She has also been a working co-editor of Screen for many years, and is currently on the editorial boards of Secuencias: revista de historia del cine; International Journal of Cultural Studies; Journal of British Cinema; Intensities: Online Journal of Cult Media; and Visual Culture in Britain.
All members of staff, students and members of the general public are invited to be present at this inaugural lecture, and in addition to the above event, there will be a screening of RATCATCHER (Lynne Ramsay, 1999) at 3.00 p.m. in Bowland Lecture Theatre and all are welcome. No booking is necessary