Celebrating African Writing
09/30/2005 10:22:23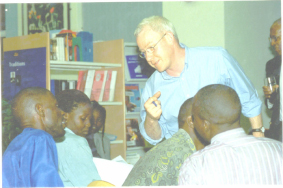 Graham Mort runs a writing workshop in Uganda
A Lancaster University lecturer has helped design and programme a new festival of African Writing in Uganda.
Dr Graham Mort, of Lancaster University's department of English and Creative Writing, acted as a UK advisor to the new festival, which grew out of the Crossing Borders Project.
Crossing Borders is a distance learning creative writing scheme, which seeks to support emerging writers in Africa. It is managed by Lancaster University and the British Council and was originally devised by Dr Mort in 2001 after a writing residency in Uganda made him aware of the need for young African writers to develop their writing skills.
Forty-five African writers from 17 countries will participate next month in the literature festival "Beyond Borders: A Festival of contemporary African Writing" from October 19 to 21, 2005. It will be held in Kampala.
Dr Mort said: "Since Crossing Borders was first conceived the project has generated a lot of new opportunities. This festival will provide a platform for established and new writers, those in exile or now returned home. It will address the role of writers and the state of contemporary writing across Africa. As well as celebrating new writing from diverse African cultures, discussions at the festival will be captured in a report that will identify the needs of emerging writers."
Director of British Council Uganda, Mr. Richard Weyers, said: "The literature festival will be one of the largest gatherings of African writers in Africa to take place for several decades. It is a unique creative networking event that will broadcast to the world the richness of African and UK writing."
Participating writers have been drawn from across Sub-Saharan Africa and the UK. They include Sara Maitland, Val Bloom, Bernardine Evaristo and Brian Chikwava from the UK, renowned Sudanese writer, Taban Lo Liyong and Ivory Coast's Veronique Tadjo.
The festival will bring together two writers from each of 17 African countries, Uganda, Kenya, Tanzania, Sudan, Botswana, Cameroon, Ghana, Ethiopia, Sierra Leone, South Africa, Namibia, Nigeria, Malawi, Mauritius, Mozambique, Zambia, and Zimbabwe.
Beyond Borders is part of the British Council's Interaction initiative, an ambitious pan African programme that seeks to nurture a new generation of African leaders as they face the challenges of the 21st Century.