University Challenge win for Lancaster
02/23/2005 16:26:20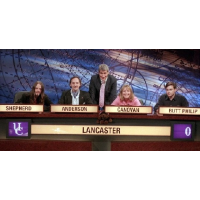 Lancaster University has got through to the quarterfinals of University Challenge.
In the quiz, broadcast on BBC 2 at 8.30pm, Monday, February 21, the team of four Lancaster students took on their Reading opponents and won 175 to 60.
The win means the team is now through to the quarter final, which has already been recorded and is due to be broadcast on March 21.
Team members were: Thomas Shepherd, History and Politics student and president of Lonsdale JCR, Alasdair Anderson, PhD student, Geography, Cherry Canovan, second year Physics, Theo Butt Philip, Politics and International Relations.