Lancaster and York In 44th Roses Tournament
04/04/2008 09:26:02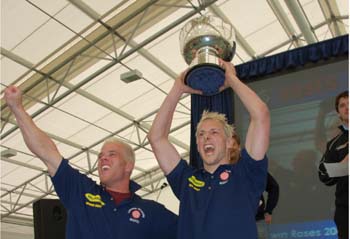 Lancaster's rugby team celebrate after winning a trophy at the Roses Tournament in York last year
The historic rivalry between Lancaster and York will be re-enacted with the 44th annual Roses Tournament between the two Universities.
This year it's the turn of Lancaster University to host the event which is one of the biggest inter-varsity tournaments in the country.
Over 1200 competitors will compete in over 100 events covering 40 different sports, ranging from rugby union to archery, rowing and even ballroom dancing. Three new sports are being introduced for the first time – American football, powerlifting and judo.
The Wars of the Roses in the fifteenth century were eventually won by the House of Lancaster, but victory in the Roses Tournament is less clear cut. The running tally since the tournament began 44 years ago is 21 tournaments each to both York and Lancaster Universities, with one draw.
Lancaster University's Athletic Union President James Marenghi says the Red Rose team stand a good chance in 2008.
He said: "It's an advantage playing on home turf because of the crowds so Lancaster has a great chance. It's a fantastic exhibition of sport and also a chance to socialise with the competitors from York. The event is all about taking part and supporting, so no matter which University hosts the competition the sidelines are full of crowds shouting and socials in the evening."
The tournament will be opened by Lancaster's Chancellor Sir Christian Bonington on Sunday April 27th with a rowing competition on the river Lune. The event continues with cricket and a Frisbee contest on Thursday May 1st, while Friday 2nd May sees rugby union 7's, tennis, badminton, equestrian, golf, squash, skiing, indoor hockey, swimming, darts and karate.
The main event is the rugby union on Saturday 3rd May when there will also be hockey, judo, lacrosse, tennis, snooker, sailing, canoeing, trampolining, fencing, volleyball, waterpolo, badminton, indoor football, ballroom dancing, netball, and American football.
Nathaniel Farrell is the Captain of Lancaster University's American Football team which was founded 21 years ago – though this is the first time the sport has been included in the Roses tournament since York did not have an opposing team.
He said: "It's going to be brilliant. The rivalry with York is friendly and there are a lot of jokes and banter on the sidelines with everyone cheering and clapping. We've put a lot of work into it and we're counting down the days now."
The final day - Sunday 4th May - sees each University's Chancellor, Vice-Chancellor and Athletic Union President play each other at croquet.
There will also be archery, football, volleyball, table tennis, basketball, American passball and crown green bowls before the Carter James trophy is awarded to the victorious team at the closing ceremony.