Award for Best Corporate Workplace in the North
05/14/2010 12:37:01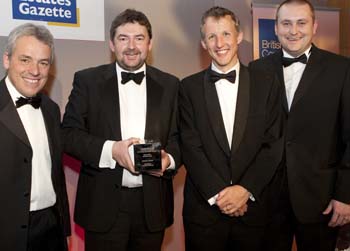 from left: Derek Southworth, Wilson Mason Architects, Mark Swindlehurst, Director of Facilities, Niall Wright, AA Projects and Michael Farrell, ARUP.
Lancaster University has received an award for the Best Corporate Workplace in the region. The new Information Systems Services Building (ISS) was praised by the British Council for Offices (BCO) for being a 'bold architectural statement' on campus.
The awards ceremony for the BCO Northern Regional Awards was held at the Hilton in Manchester, attended by hundreds of leading architects and designers.
The judges felt that the building was "a subtle and clever response to a work environment where the richness of workplace takes precedence. The open spaces, natural light and ability to mix and meet other staff, both formally and informally, make this building stand out from the rest".
The judges added that Lancaster University should be commended for continuing to create pioneering workplaces for pioneering research.
The University's Director of Facilities Mark Swindlehurst said: "It's a fantastic achievement and all those involved should be justifiably proud that their efforts have been recognised. The whole team worked hard to deliver an outstanding working environment and ISS, as the occupiers, are delighted with it."
The new ISS building houses around a hundred staff as well as providing a new Computer Centre and machine rooms to store equipment.
Andrew Meikle, Head of Corporate Information Services at ISS, said it provided a great working environment for his team.
"It is wide, airy and quiet. Both the innovative roof and the many windows offer lots of natural light and tremendous views across campus and the surrounding countryside. The combination of areas with desks, breakout areas and meeting rooms gives many different kinds of opportunities for collaboration."
Lancaster and the other regional winners will compete at a national level in the finals of the BCO competition this autumn.